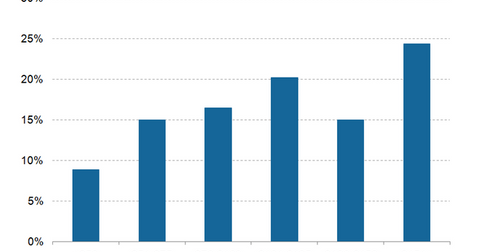 Dish's Sling TV Works to Thwart Competition from Streaming Operators
By Shirley Pelts

Apr. 26 2017, Updated 3:40 p.m. ET
How Sling TV plans to beat its competition
Dish Network (DISH) expects that over the medium to long term, the trend of OTT (over-the-top) services is likely to accelerate compared to the pay-TV business. In a bid to thwart the competition from emerging entrants in the streaming space, Dish Network added CBS's (CBS) Showtime to its Sling TV service in early April.
Dish Network has revamped its Sling TV service. In 2016, the company unveiled two packages for Sling TV—Sling Orange and Sling Blue. Sling Orange is a basic single-screen package priced at $20 per month, and Sling Blue is a multiscreen package priced at $25 per month. Sling TV subscribers can buy both packages for $40 per month. As a result of its revamp, Sling TV is attracting users of all ages and in all demographics.
According to an early April FierceCable report, subscribers to Sling TV's Sling Orange and Sling Blue packages can add Showtime for an additional $10 per month. The report added that this price is $2 higher than AT&T's (T) DIRECTV Now price for Showtime.
Dish Network stated during its 4Q16 earnings call that although the launch of DIRECTV Now expanded the OTT market, the company didn't see any adverse effect on its Sling TV subscriber base.
Alphabet's (GOOG) YouTube TV, which was recently launched in five cities in the United States (SPY), is also posing a threat to DISH's Sling TV. Hulu is also set to launch its online television service later this year.
Article continues below advertisement
Rising cable bills and OTT services
Dish Network's OTT video streaming service appears to have significant growth potential. Users have been subscribing to OTT services more frequently, mostly due to the high monthly charges they were paying cable and satellite TV providers.
A 4Q16 report from Digitalsmiths suggests that ~35% of users pay more than $100 every month to their pay-TV providers, as you can see in the chart above.