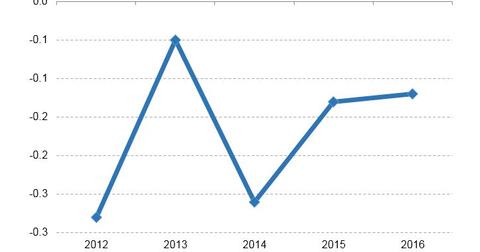 Did Zynga's Executives Take More Than Their Share?
By Neha Gupta

Updated
Zynga paid $24.5 million to CEO
Did Zynga's (ZNGA) executive compensation raise more than a few eyebrows? According to a securities filing cited by Reuters, Zynga CEO (chief executive officer) Frank Gibeau took home $24.5 million in total compensation in 2016, while CFO (chief financial officer) Gerard Griffin received $12.9 million in total compensation in the same year.
Combined, the two executives took home $37.4 million in 2016, which implies a little more than 5% of Zynga's 741.4 million in annual revenue that year. Annual revenues fell from $764.7 million one year previously.
Article continues below advertisement
A loss-making operation
Zynga has not turned a profit for several years. It posted EPS (earnings per share) loss of $0.12 in 2016, indicating a slight improvement from its EPS loss of $0.13 in 2015, as illustrated in the above chart.
Is the high executive pay justified?
Although it may seem curious that Zynga handed hefty paychecks to its CEO and CFO in 2016—when it didn't produce as much value for shareholders that year (given a string of annual losses)—the executive earnings could be offering a clue of what could be in the offing for patient Zynga investors.
When Zynga signed Gibeau early last year to become its CEO, he was supposed to earn a base annual salary of $1 million. But he was also eligible for numerous bonuses tied to his performance. Therefore, if Gibeau took home $24.5 million in 2016—significantly more than his base salary—it may be safe to conclude that he met performance targets set by the board, and we might infer that he's steering Zynga in the right direction, according to the board.
Zynga is in a fierce contest against Electronic Arts (EA), Glu Mobile (GLUU), Take Two Interactive (TTWO), and Activision Blizzard (ATVI) for control of the digital games market.