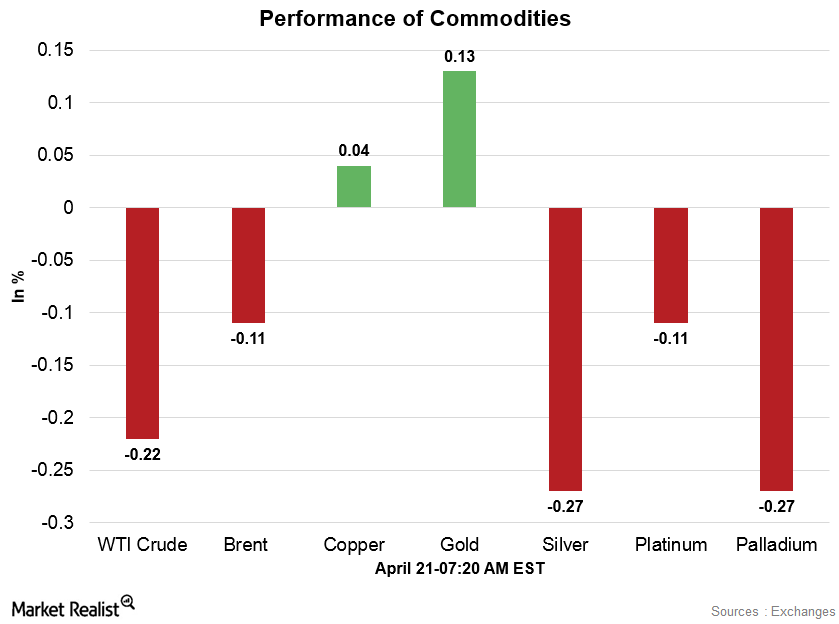 Commodities Are Mixed, Paris Attacks Support Gold
Crude oil
After falling for four consecutive trading days, crude oil prices opened the day higher but are trading weaker in the early hours on Friday. Despite the strong opening today, crude oil prices are set to record the biggest weekly losses in a month.
The market sentiment is weaker amid speculations about supply cuts' ability to support crude oil prices. The initial supply cut agreement went live on January 1, 2017, and aimed to lower production by 1.8 million barrels per day in 1H17. However, support from supply cuts was offset by increased US shale oil production and a higher US rig count. The market expects supply cuts to be extended. Speculations were strengthened by comments from Kuwait and Saudi Arabia's oil ministers this week.
Article continues below advertisement
At 7:15 AM EST on April 21, the West Texas Intermediate crude oil futures contract for June 2017 delivery was trading at $50.65 per barrel—a fall of ~0.12%. The Brent crude futures contract for June 2017 delivery fell ~0.06% to $52.78 per barrel. The SPDR S&P Oil & Gas Exploration & Production ETF (XOP) closed at $34.99 after rising 0.11% on April 20. The market is looking forward to Baker Hughes's US oil rig count data scheduled to release at 1:00 PM EST today.
Metals
After gaining some strength on Thursday, copper opened higher on Friday. It rose but returned to the opening price in the early hours. In March, China's refined copper production rose to the highest levels since December 2015. Copper prices are expected to move higher in 2H17 amid increased demand from China and the US.
At 7:25 AM EST on April 21, the COMEX copper futures contract for May 2017 delivery was trading at $2.54 per pound—a gain of ~0.04%. The PowerShares DB Base Metals ETF (DBB) rose 1.9%, while the SPDR S&P Metals & Mining ETF (XME) rose 3.1% on April 20. Gold (GLD) and silver (SLW) were stable in the early hours amid terrorist attacks in Paris. Platinum and palladium are slightly weaker in the early hours.