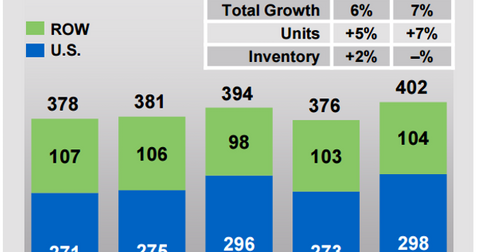 Amgen Seeks Approval for Xgeva in Multiple Myeloma Indication
By Margaret Patrick

Updated
Xgeva regulatory approval
On March 3, 2017, Amgen (AMGN) announced positive results from its Phase 3 trial 482 study evaluating the efficacy of Xgeva in delaying skeletal-related events (or SRE) or bone complications in multiple myeloma (or MM) patients. Compared to zoledronic acid, Xgeva proved non-inferior based on its median time to first SRE in the enrolled patients.
Amgen has already filed applications with regulatory authorities in both the United States and Europe, seeking approval for Xgeva in this new indication.
Article continues below advertisement
If approved, Xgeva may provide a new treatment option to patients who may not be opting for other therapies due to the risk of renal complications. This approval may also have a positive impact on Amgen's share price as well as the price of the iShares NASDAQ Biotechnology ETF (IBB). Amgen makes up ~7.6% of IBB's total portfolio holdings.
Xgeva's revenue performance in 1Q17
In 1Q17, Xgeva reported revenue of $402 million, a year-over-year (or YoY) rise of ~6%. This rise was mainly driven by a gradual rise in Xgeva's market share due to its superior clinical profile compared to similar drugs. Further, a few purchases made by large accounts also had a positive impact on the drug's revenue in 1Q17. To know more about Xgeva, read Xgeva: Focusing on Skeletal-Related Events in Cancer Patients.
Blincyto growth prospects
On May 1, 2017, Amgen published positive results from its Phase 3 TOWER trial demonstrating that Blincyto was superior to the current standard of care chemotherapy in treating patients suffering from Philadelphia chromosome-negative (or Ph-) relapsed or refractory B-cell precursor acute lymphoblastic leukemia (or ALL). 
Amgen's innovative immuno-oncology Bispecific T cell Engager (or BiTE) platform is expected to be a significant factor enabling the company to compete effectively with other oncology players such as Pfizer (PFE), Merck & Co. (MRK), and Bristol-Myers Squibb (BMY). To know more about Blincyto, read Amgen Launches Blincyto Targeting Rare Disease.
In the next article, we'll discuss growth prospects for Amgen's bone health drug, Prolia, in greater detail.