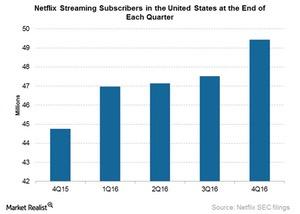 Will YouTube TV's Entry Affect Netflix's Subscriber Additions?
By Shirley Pelts

Mar. 16 2017, Updated 7:36 a.m. ET
Netflix's domestic subscriber growth
The entry of Alphabet's (GOOG) YouTube TV into the paid subscription streaming market is unlikely to shake things up for Netflix (NFLX), at least initially. In 4Q16, Netflix had 49.4 million domestic subscribers. The company expects to hit 50.9 million subscribers in 1Q17.
The company had a domestic contribution margin of 38.2% in 4Q16, and it appears to be on track to achieve its intended target of 40.0% by 2020 or earlier. It expects a contribution margin of 41.3% in 1Q17.
Article continues below advertisement
Factors driving Netflix's subscriber growth in the United States
Last year, Netflix was integrated onto Comcast's (CMCSA) X1 set-top box. The company also entered into an agreement with TiVo (TIVO) to add a Netflix button to TiVo's remote controls for its set-top boxes. The aim was for this implementation to be part of the licensing agreement between the two companies. TiVo sells its set-top boxes to pay-TV operators and retail stores.
Netflix has entered into similar deals in international markets. The company stated on its 4Q16 earnings call that while it would continue to enter these licensing deals, it didn't believe they would have significant effects on its churn rate. It pointed out that in 4Q16, its subscriber growth was driven more by the popularity of Internet television and its original content than by its partnership agreements with pay-TV operators such as Comcast.
Netflix's original content has been one of the reasons it continues to reign supreme in the paid video streaming market. Original content has been one of the core drivers of the company's subscriber growth. Netflix intends to produce 1,000 hours of original programming and spend $6.0 billion on content in 2017.