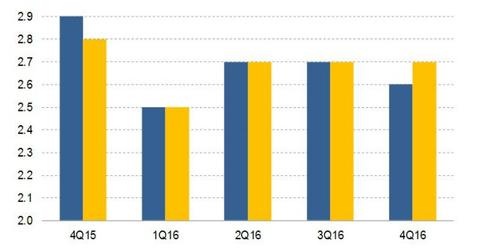 Why Is Baidu Yisheng Being Shut Down?
By Neha Gupta

Updated
Baidu restructuring claims Baidu Yisheng
Baidu (BIDU) is closing the operations of Baidu Yisheng, its online medical consultation services business. The company began taking down Baidu Yisheng's services on March 10, 2017, and the process will continue until April 1, when the service will be completely ended, hopefully closing a dark chapter in Baidu's online advertising business.
The closing of Baidu Yisheng is part of Baidu's corporate restructuring, which has also affected the company's leadership structure. For instance, Baidu has created a new division to handle its autonomous driving project, appointing an executive it hired from Microsoft (MSFT) to head the division.
Article continues below advertisement
Reducing risk in the business
But why is Baidu shutting down Baidu Yisheng? The move seems to be a response to the problem the company had last year, and it appears to be aimed at reducing risks in the business. Baidu Yisheng was the source of an advertising scandal that led to a public outcry, forcing Baidu to undertake a large-scale cleanup of its platform to comply with new, stricter regulatory requirements.
Problems resulting from controversial Baidu Yisheng ads caused Baidu serious losses in 2016. Its operating profits fell nearly 14.0% in 2016, and its number of advertising clients fell nearly 19.0% in 4Q16, causing a revenue miss in the quarter. Baidu posted revenue of ~$2.6 billion, compared to analysts' consensus estimate of ~$2.7 billion. 
The chart above shows how Baidu's quarterly revenues have compared with its consensus estimates.
Freeing resources to drive growth elsewhere
By shutting down Baidu Yisheng, Baidu could free up resources to invest in strengthening its core advertising business and growing its non-advertising revenue. The company is battling tough competition from Alibaba (BABA), JD.com (JD), Weibo (WB), and other Chinese Internet companies for online marketing companies' budgets.