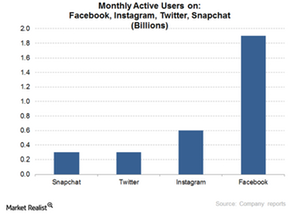 Why Comcast Invested in the Snap IPO
By Shirley Pelts

Mar. 17 2017, Updated 9:06 a.m. ET
Comcast's investment in Snap
According to a CNBC report from earlier this month, Comcast's (CMCSA) NBCUniversal invested around $500 million in Snap's (SNAP) IPO. According to the report, this is a strategic investment by Comcast's NBCUniversal in Snapchat and it would be the only media company with a stake in Snap.
The report also states that Comcast had worked with Snapchat and BuzzFeed during its broadcast of the Rio Olympics, resulting in around 2 billion views. The report stated that NBCUniversal is also producing content for Snapchat including The Voice, SNL, and The Rundown. Comcast has also invested in other digital media properties including $200 million in Vox Media, around $400 million in BuzzFeed, and another $250 million in Groupon (GRPN) through its venture capital company Atairos.
Article continues below advertisement
Why did Comcast invest in Snap?
Snap isn't just looking at digital advertising as a means to generate revenues. Instead, it's diversifying into gadgets and has already launched its Spectacles device.
While Snap isn't saying that its ambition is to take on GoPro (GPRO), Sony (SNE), and others in the camera hardware business, it's describing itself as a camera company.
Expanding into the gadgets business wouldn't just earn Snap extra revenue outside the advertising business, it would also ensure that it doesn't depend on Apple (AAPL) and other smartphone makers for their camera features. Snap subscribers can use Spectacles to capture and share photos and videos on the app without assistance from a third-party gadget. Spectacles could also improve user engagement on Snap, increasing the app's appeal for advertisers.
If Snap is successful in diversifying its business as Facebook (FB) has been, Comcast's investment in Snap will mean a handsome return for the company. Comcast's investment in Snap and its focus on digital advertising could also result in the cross-selling of ads on each other's websites, similar to Comcast's strategic partnership with Vox Media.