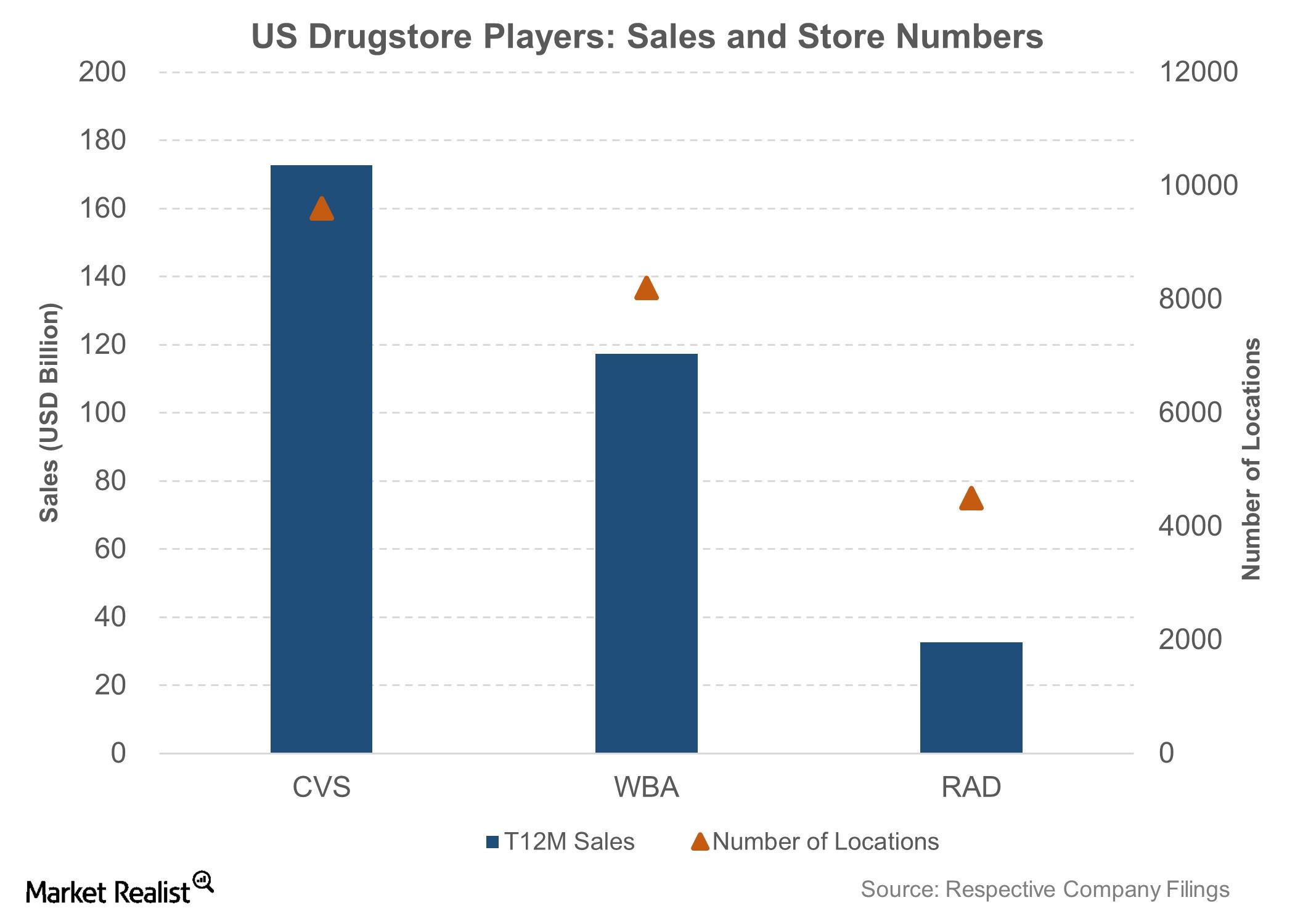 What's Happened since the Walgreens–Rite Aid October 2015 Deal?
Why the delay in closing the Walgreens–Rite Aid deal?
Walgreens Boots Alliance (WBA) is the second-largest pharmacy retail chain in the United States in terms of market cap and sales. It has trailing 12-month (or TTM) sales of $117.0 billion.
CVS Health (CVS) is the largest pharmacy chain and has TTM sales of $177.5 billion. Rite Aid (RAD) is the third-largest pharmacy chain with TTM sales of $32.6 billion.
The merger of Walgreens and Rite Aid would join the second- and third-largest drugstore chains and thus significantly reduce competition. The idea didn't set well with the FTC (Federal Trade Commission), which ordered WBA to reduce at least 5.0% of the combined WBA-RAD store count.
Article continues below advertisement
What Walgreens has been doing to get the necessary approval
To get the required approval, Walgreens went looking for buyers, finally settling on Fred's (FRED). It agreed to sell 865 stores to Fred's, or 5.0% of the combined store count. The deal was valued at $950.0 million and would position Fred's as the third-largest drugstore chain in the United States.
Walgreens also modified its initial $17.2 billion deal with Rite Aid. It lowered its offer from $9 per Rite Aid share to $6.50–$7 per share, reducing the value of the deal by about $2.0 billion. The revised deal hurt Rite Aid stock, which fell 18.0% after the news broke on January 30, 2017. The stock has fallen 32.0% since then.
Despite all the changes to the agreement, Walgreens still couldn't impress the FTC and hasn't gotten the green light. Could selling even more Rite Aid stores to Fred's be enough to get FTC approval?
If you're seeking exposure to WBA or RAD, you could consider the First Trust Consumer Staples AlphaDEX ETF (FXG), which invests 5.1% of its combined portfolio in the two companies.
In the next part, we'll look at the impact of the merger delay on WBA, RAD, and FRED stock.