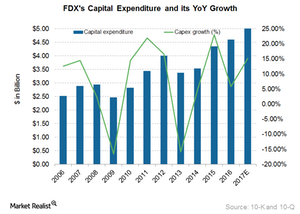 What's FedEx's Capital Investment Outlook?
By Samuel Prince

Mar. 24 2017, Updated 10:36 a.m. ET
FedEx's capital investments
Previously, we looked at FedEx's (FDX) overall and segmental operating margins. Here, we'll review the company's line of capital investments in fiscal 2018. In 3Q17, the company incurred capex of $1.1 billion, which represents 7.4% of the 3Q17 total revenues of ~$15.0 billion.
Article continues below advertisement
FedEx's capex composition
Presently, the FedEx Express segment dominates in terms of segmental capital spending with a 49.1% share. It's immediately followed by the FedEx Ground segment, which accounted for 29.7% of the capex in the first nine months of fiscal 2017.
In the first nine months of fiscal 2017, aircraft and related equipment accounted for 34.8% of total capex, followed by package handling and ground support at 21.6%, and vehicles at 19.4%.
FedEx Express's overall aircraft fleet fell from 650 in 2014 to 643 in 2016. The company is expecting delivery of 12 Boeing (BA) 767Fs in fiscal 2017. However, the company has 16 Boeing MD10 and MD11s that are set for lease expiry or will be retired in the same fiscal year. This will further reduce FDX's fleet to 639. From 2018 and onwards, FDX will see incremental rises in its fleet each year until 2021 when a net of 14 aircraft are set to retire or have their leases expire.
Article continues below advertisement
Capex outlook
For fiscal 2017, FedEx projects it will spend $5.3 billion on capital assets against $5.6 billion planned earlier. This includes the proposed integration capex of $100.0 million required for TNT in fiscal 2017. FedEx Ground's capital investments are pegged at $1.7 billion, representing a reduction of $300.0 million in fiscal 2017. After fiscal 2018, FedEx anticipates a decline in capital expenditure as a percentage of revenue.
Peers' capital spending 
FedEx has to spend roughly 8% of revenues on capital asset acquisition. However, close rival United Parcel Service (UPS) spent only 4.3% of revenues, as it has a relatively young aircraft fleet. Let's look at capital spending as a percentage of revenue by FDX's peers in 2015:
Investors who want indirect investment in the transportation sector can consider the First Trust Industrials-Producer Durables AlphaDEX Fund (FXR). Major US airlines and prominent railroads make up 12.8% and 5.6% of FXR, respectively.
In the last part, we'll look at Wall Street analysts' views of FedEx.