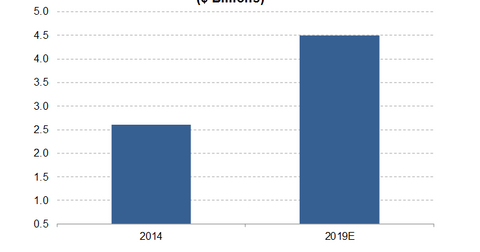 What's Cisco Plotting with Its Investment in Exabeam?
By Ruchi Gupta

Updated
Cisco helps startup raise $30 million
Cisco's (CSCO) backing of security vendor Exabeam offered a glimpse of the company's business ambition: integrating security into enterprise network systems to appeal to more customers.
In February 2017, Cisco led a funding round that raised $30 million for Exabeam. An earlier round netted $35 million for Exabeam from investors such as Norwest Venture Partners, Icon Ventures, and Shlomo Kramer. Exabeam's founder, Nir Polak, was a product strategist at Imperva (IMPV).
Article continues below advertisement
A less provocative approach
Though Exabeam started out as a provider of behavioral analytics, the kind of digital defense technology that organizations use to monitor and thwart network attacks, the startup is diversifying into another security field known as SIEM (security information and event management). IBM (IBM) and Hewlett-Packard Enterprise (HPE) are among the major SIEM providers, and taking on these giants could be a Herculean task.
Therefore, instead of facing these larger incumbents directly, Exabeam is applying a strategy that helped Palo Alto (PANW) in its early days. Exabeam has created a product that it says augments traditional SIEM called an SIEM helper, just as Palo Alto came up with a firewall helper. The strategy is a way to gain traction in the enterprise security market.
The worldwide SIEM market is huge, as it's estimated to grow to $4.5 billion in 2019, compared to $2.6 billion in 2014, according to MarketsandMarkets.
Will Exabeam put Cisco ahead of the competition?
If Exabeam succeeds, Cisco hopes to share in its success. It could acquire the technology and integrate it into its enterprise IT products or partner with Exabeam to bundle the technology with its products to increase their appeal and drive sales.