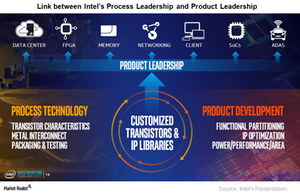 What Could Happen If Intel Loses Its Process Lead
By Puja Tayal

Updated
Losing process lead could affect Intel's competitive advantage
In the previous part of this series, we saw that Intel's (INTC) extended technology road map could cause the company to lose its process lead after 2018. The company is an IDM (integrated device manufacturer), and its more advanced process nodes give it a competitive advantage in the PC (personal computer) and server processor markets.
Intel's IDM model also helps it customize its process according to the processor design rather than using a standard process from a foundry. If the company loses its process lead, it may stand to lose its market share in the PC and server markets.
Article continues below advertisement
The early signs of competition are already evident. Advanced Micro Devices (AMD) has launched Ryzen CPUs (central processing units) on Samsung's (SSNLF) 14nm (nanometer) node, which is inferior to Intel's 14nm node. Despite this, Ryzen is matching the performance of Intel's 14nm Broadwell-E i7 6900k processor. If AMD can achieve a similar performance on an inferior node, it may outperform Intel on a superior node. That would help AMD win some share from Intel in the PC processor market where Intel has more than an 80.0% share.
Let's look at another instance of Qualcomm's (QCOM) Snapdragon 835 chip that will be built on Samsung's 10nm process. Samsung's 10nm node is similar to Intel's 14nm node. There are rumors that the upcoming Snapdragon 835 may perform better or similar to Intel's 10nm Canon Lake chip.
If Samsung's and Taiwan Semiconductor Manufacturing's (or TSMC) (TSM) process nodes are more advanced than Intel's, ARM-based server chips may be able to compete with x86 server chips in terms of performance, efficiency, and cost. That would help Qualcomm's, Applied Micro Circuits', and Cavium's ARM-based server chips gain shares in the data center processor market, which is 99.0% owned by Intel.
Intel's pricing power at risk
If Intel fails to come up with a better chip architecture than its competitors, it could lose its pricing power and be forced to cut prices. That would hurt its margins significantly. The biggest blow would come if Intel loses its share in the data center market, the company's most profitable segment that accounts for more than 50.0% of its operating profit.
If Intel isn't able to sustain its market leadership and pricing power, some analysts expect its profit margins and ASPs (average selling prices) to fall over the next five years. However, the company is looking to maximize its profits in the short term.
In the next part of this series, we'll look at the company's strategy to maximize profits.