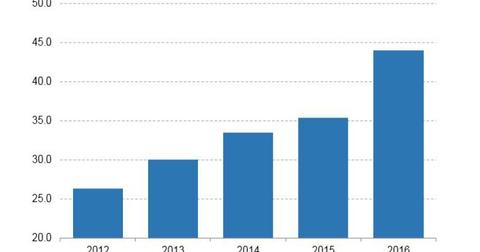 What Amazon's Warning over Protectionist Policies Could Mean
By Ruchi Gupta

Apr. 3 2017, Updated 12:55 p.m. ET
Trade protectionism is among Amazon's worries
In a recent securities filing, Amazon (AMZN) stated that "protectionist measures" are among the risks it faces, especially in its international operations. It seems Amazon is worried that if the US government restricts foreign goods entering the domestic market, it could become a target of retaliation by international authorities. 
Retaliatory moves could hurt Amazon because the company has spent billions of dollars on international expansion in markets such as India. The company's overseas competitors include Alibaba (BABA), JD.com (JD), Snapdeal, and Flipkart. The chart below shows Amazon's international revenues.
Article continues below advertisement
Expanding the lobbying budget
Amazon could try to respond to the protectionist threat by increasing its spending on federal lobbying campaigns. Although such efforts could help the company oppose unfavorable trade policies, it's already struggling with rising costs and an expanding lobbying budget could cut deeper into its profits.
Amazon is already spending millions of dollars annually on federal lobbying activities, according to Consumer Watchdog data. In 2015, the company spent ~$9.1 million on lobbying efforts, an ~91% increase over what the company spent on similar programs in 2014.
Lobbying targets
Amazon's recent federal lobbying efforts have focused on issues such as the regulation of drones, copyright reforms, net neutrality, corporate taxation, and cloud computing.
However, Amazon wasn't the top spender on federal lobbying activities in 2015. Alphabet (GOOGL) and Comcast (CMCSA) pumped $16.6 million and $15.6 million, respectively, into lobbying efforts.
In the next article, we'll look at the complex relationship between Amazon and its shipping partners.