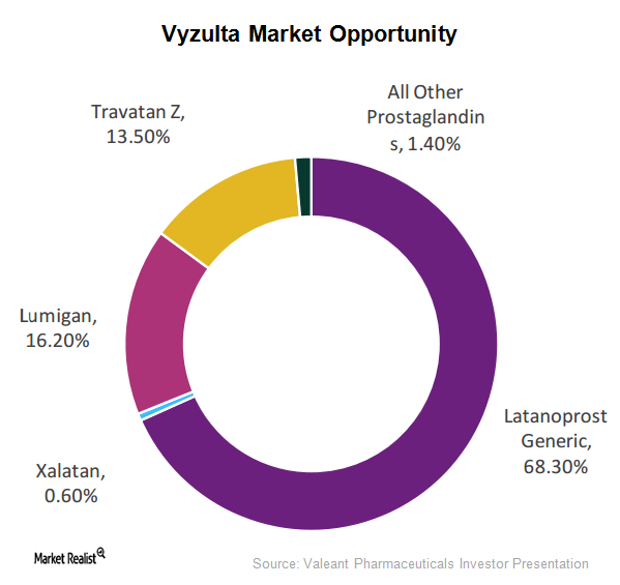 Vyzulta May Be a Potent Therapy for Glaucoma in the Future
By Margaret Patrick

Mar. 27 2017, Updated 7:36 a.m. ET
Vyzulta growth trends
On February 24, 2017, Valeant Pharmaceuticals (VRX) refiled its application with the FDA, seeking regulatory approval for Vyzulta (latanoprostene bunod) as a therapy for open-angle glaucoma patients.
On July 22, 2016, the company announced that it had received a complete response letter (or CRL) from the FDA related to a previously filed application for Vyzulta. The letter highlighted the regulatory agency's concerns about Bausch & Lomb's manufacturing facility in Tampa, Florida. After addressing these issues, Valeant expects to launch the therapy in 2H17.
If the company manages to secure regulatory approval for Vyzulta, its share prices and the First Trust Value Line 100 ETF (FVL) may be positively affected. Valeant makes up 0.88% of FVL's portfolio.
Article continues below advertisement
Vyzulta market opportunity
According to Valeant's estimates, approximately 3 million people in the United States have glaucoma. The company has valued the total US glaucoma market opportunity at close to $3.0 billion. Prostaglandin-analog class drugs, such as Vyzulta, account for $1.6 billion of the glaucoma market. While 17 million prostaglandin prescriptions are written annually in the country, around 70% are for the latanoprost molecule.
In a phase 2b dose-ranging trial, Vyzulta demonstrated higher efficacy in reducing intraocular pressure than Pfizer's (PFE) Xalatan. The drug also established a solid clinical and safety profile in subsequent phase 3 trials. If approved, Vyzulta will make Valeant tough competition for glaucoma players Novartis (NVS) and Allergan (AGN).