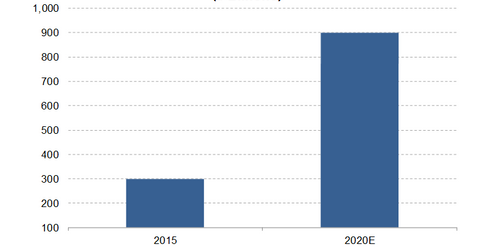 Solving eBay's Growth Problem: The Great Hope of Cross-Border Trade
By Neha Gupta

Updated
Exporting the Russian experience
It appears that eBay (EBAY) is on the same path that rival Alibaba (BABA) has traveled: trying to capture growth by promoting cross-border e-commerce. Millions of Chinese consumers are now ordering items directly from overseas vendors through Alibaba's marketplaces.
To be sure, the company isn't exactly trying to copy Alibaba's tactic, but rather it's trying to forge a similar experience in Russia, which has recently opened its eyes to opportunities in international online trade.
Article continues below advertisement
While the company has struggled to penetrate Russia's domestic e-commerce industry, the auction site is popular with Russians selling to or buying from overseas. The company is now looking to replicate the Russian experience in 120 other countries, mainly in Africa, the Middle East and parts of Europe, where it hasn't had a major domestic break.
A huge opportunity
International e-commerce is a huge opportunity. According to a recent DHL report, cross-border retail e-commerce volumes will expand at an annual average growth of 25% in the next five years. International retail e-commerce volumes were $300 billion in 2015, and the projected growth implies that volumes could be as high as $900 billion in 2020, as the chart shows.
Tools to promote international e-commerce
Meanwhile, eBay is already rolling out tools and features to help it appeal to cross-border sellers and buyers. Its ebayMag, for instance, lets vendors display their listing in other languages so they can reach overseas customers.
A successful break in cross-border e-commerce would not only yield more marketplace revenue for eBay but also expand opportunities for the company to grow its classified business. Of course, eBay is already in the process of revamping its online advertising business.
As eBay has struggled to grow its e-commerce sales amid tough competition from Amazon.com (AMZN), Alibaba, Etsy (ETSY) and JD.com (JD), cross-border e-commerce could very well help it recapture the growth it's working so hard to achieve.