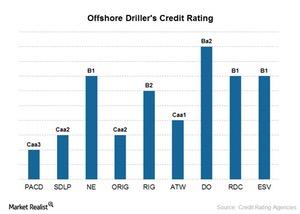 Pacific Drilling's Covenants Are Giving It a Hard Time
By Sue Goodridge

Dec. 4 2020, Updated 10:53 a.m. ET
Cash flow
Operating cash flow represents cash flow from a company's core operations. Pacific Drilling's (PACD) cash flow from operations was $40.0 million in 4Q16 compared to $59.0 million in 4Q15.
Pacific Drilling has a total debt of ~$3.2 billion as of December 31, 2016. The company successfully amended its 2013 revolving credit to waive the leverage ratio covenant and modify the net debt per rig covenant for the quarters ending March 31, 2017, and June 30, 2017.
Based on current estimates and expectations for day rates and new contracts in 2017, Pacific Drilling doesn't expect to stay in compliance with the maximum leverage ratio covenant at the end of the third quarter of 2017 unless these requirements are waived or amended by the bank.
Article continues below advertisement
CFO's comment
Pacific Drilling's CFO (chief financial officer) Paul Reese stated, "Given the difficult market circumstances, we are very pleased to have secured these waivers and amendments from a supportive bank group. Although there is still much work to be done, we believe this should provide us sufficient time to come to an agreement with all our stakeholders regarding an appropriate capital structure for the company. We continue to engage with our bank lenders and noteholders to arrange a capital structure that will allow for sufficient liquidity and flexibility to operate our business effectively through this challenging market."
Liquidity
Pacific Drilling's cash balance, including restricted cash, totaled $626.0 million as of December 31, 2016.
Article continues below advertisement
Credit rating
In November 2016, Standard & Poor's downgraded the credit rating for Pacific Drilling (PACD) to CCC- from CCC+ and assigned it a "negative" outlook. CCC- signifies a non-investment-grade rating, or a junk bond rating. Also in February, Standard & Poor's assigned the company an "NR" (not rated) status.
Now let's look at some recent credit rating downgrades by Standard & Poor's for other offshore drilling companies.
Diamond Offshore Drilling's (DO) credit rating was downgraded to BB- from BBB. DO has been given a negative outlook.
Rowan Companies' (RDC) credit rating was downgraded to B+ from BBB. It was given a "stable" outlook.