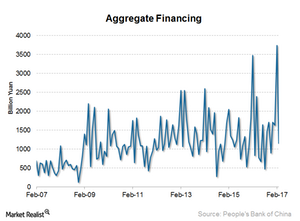 How China's Credit Growth Affects Iron Ore
By Anuradha Garg

Apr. 4 2017, Updated 9:05 a.m. ET
China's credit metrics and iron ore prices
Financing, or the level of credit available, is crucial to growth, as it stimulates consumption and investment in an economy. By tracking credit growth in China (MCHI), investors can gauge patterns that forecast future demand.
Article continues below advertisement
Aggregate financing drops
Aggregate financing measures liquidity by adding the total funds provided by a financial system to nonfinancial sectors and households. China's aggregate financing stood at ~1.2 trillion Chinese yuan in February 2017 as compared to 3.7 trillion yuan in January 2017. The median estimate called for a figure of 1.5 trillion yuan. The credit numbers in January usually show growth as banks take advantage of new yearly quotas.
New yuan loans fell too
According to the People's Bank of China, new loans issued by Chinese banks in February 2017 totaled 1.2 trillion Chinese yuan, lower than 2.0 trillion Chinese yuan in January 2017.
Article continues below advertisement
M2 money supply
The broad money supply rose 11.1% YoY (year-over-year) in February 2017, lower than January's 11.3% and expectations of 11.4%. The M2 money supply includes cash, checking deposits, savings deposits, money market mutual funds, and other time deposits.
All the credit metrics showed a deceleration in February after showing a strong growth in January. Investors should, however, note that the credit numbers in China are usually higher in the initial months of the year as the government renews banks' credit quotas.
Slowing credit growth?
Credit growth may slow a bit, however, as policymakers resort to tightening measures to contain the asset price bubbles. Goldman Sachs (GS) believes that China's reliance on credit growth could be a key risk in 2017.
If the Chinese government keeps its policy less supportive in the future, pressure could return to steel mills and seaborne iron ore players. Affected players would include BHP Billiton (BHP) (BBL), Rio Tinto (RIO), Vale (VALE), and the Asia-Pacific division of Cliffs Natural Resources (CLF).
Notably, BHP accounts for 6.3% of the iShares Commodities Select Strategy ETF (COMT).