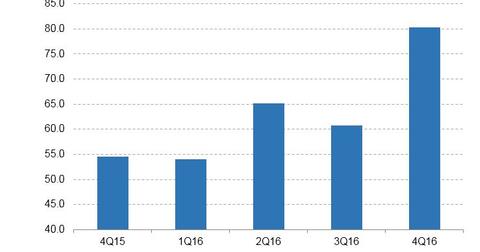 JD's Expansion into Rural China Could Pressure Alibaba
By Ruchi Gupta

Updated
JD sells JD Finance
JD (JD) spun off its digital payments unit, JD Finance, and netted ~$2.1 billion from the transaction. The company intends to invest the money in strengthening its core e-commerce operations, especially as it expands its delivery network into rural China (FXI) (MCHI). 
JD is backed by Walmart (WMT), which alongside Amazon (AMZN) has struggled to independently penetrate the Chinese e-commerce market. The chart below shows JD's quarterly revenues.
Article continues below advertisement
JD likes price wars
As JD exits the payments business, it seems to be well-positioned to take on Alibaba (BABA) in the e-commerce business. Faced with a saturated market in Chinese cities, JD and Alibaba are eyeing rural China, where the e-commerce growth opportunity is still huge. 
In targeting rural customers, JD has a reputation that could cause Alibaba nightmares. JD typically wages and wins price wars and its CEO, Richard Liu, likes to remind investors about it.
"I recommend to my shareholders any time you hear about a price war with JD you should open a luxury brand of champagne and cheers to that because it means sooner or later we will be number one and it will be profitable and it can make a lot of money for our shareholders," Liu recently told shareholders.
It seems JD's price wars are bearing fruit. The company generated revenues of 80.3 billion yuan in 4Q16, beating the consensus estimate of 76.7 billion yuan. It expects revenues in the range of 72.3 billion–74.3 billion yuan in 1Q17 compared with the consensus estimate of 73 billion yuan. 
Price persuasion to dominate rural push
In rural China, where average consumer incomes are typically low compared to the big cities, Alibaba and JD could try to persuade customers with lower prices. However, JD seems to have a leg up in using price persuasion to drive sales.