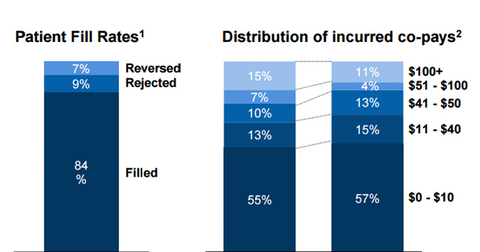 What Could Boost Medicare Demand for Novartis's Entresto?
By Margaret Patrick

Updated
Medicare market opportunity
According to LEK Research and internal data collected by Novartis (NVS), there are around 3.2 million patients diagnosed with heart failure with reduced ejection fraction (or HFrEF) in the US. The Decision Resources Patient Base 2012 estimated the number of HFrEF patients treated to be around 2.7 million.
Out of these patients, 2.2 million belong to New York Heart Association (or NYHA) functional classes II to IV and are eligible for treatment with Entresto. 65% of these patients are covered by Medicare, 25% by commercial insurers, and the rest by Medicaid and other payers. This patient distribution highlights the importance of reducing prior authorization constraints required by Medicare and commercial insurers to increase demand for Entresto.
If Novartis manages to further improve access to Entresto in 2017, it could have a favorable impact on the company's stock and the Vanguard International Dividend Appreciation ETF (VIGI). Novartis makes up about 3.3% of VIGI's total portfolio holdings.
Article continues below advertisement
Improved formulary position
Compared to 9% at the end of 2015, Entresto attained a preferred position in 88% of Medicare plans at the end of 2016. This position reduces the out-of-pocket cost of the drug for low-income subsidy patients in the Medicare program to as low as $7.50. Around one-third of Medicare patients belong to this group and have benefited significantly from the improving formulary position.
In 4Q16, an estimated 57% of Medicare patients incurred less than $10 as a co-pay for Entresto. 15% of Medicare patients spent $11–$40, 13% spent $41–$50, and 4% paid $51–$100. Only 11% of patients had to pay co-pays in excess of $100 for Entresto in 4Q16. Thus, in plans where Entresto has managed to secure a preferred formulary position, more than 50% of patients have access to the drug at co-pays lower than $10.
Lower co-pays for Entresto will enable Novartis to pose tough competition to other competitors such as Amgen (AMGN), Merck (MRK), and Pfizer (PFE).
In the next article, we'll discuss demand trends for Entresto in commercial and other patient segments in greater detail.