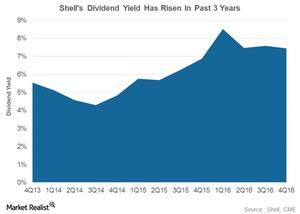 How Shell's Dividend Yield Compares
Shell's dividend yield
As Royal Dutch Shell (RDS.A) has consistently given returns to shareholders in the form of dividends, we've evaluated its dividend yield. Yield is calculated as a ratio of annualized dividends to stock price.
Shell's dividend yield rose from 5.5% in 4Q13 to 7.4% in 4Q16. This is due to an increase in its dividend coupled with a decline in its stock price.
Article continues below advertisement
Peers' dividend yields
Chevron's (CVX) dividend yield also rose, from 3.3% in 4Q13 to 4.1% in 4Q16. BP's (BP) dividend yield surged from 5.4% to 6.1%, and ExxonMobil's (XOM) dividend yield improved from 2.8% in 4Q13 to 3.6% in 4Q16. If you're seeking exposure to large US companies, you could consider the SPDR Dow Jones Industrial Average ETF (DIA), which has a ~6% exposure to integrated energy majors ExxonMobil and Chevron.