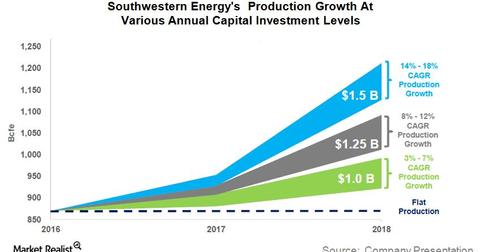 How Much Capital Southwestern Energy Needs for Flat Production
By Nicholas Chapman

Updated
Capital program guidance
In its 4Q16 earnings call, Southwestern Energy (SWN) said it has raised its 2017 capital spending program to $1.2 billion–$1.4 billion. That's a midpoint rise of ~$652.0 million from its 2016 capital spending of ~$648.0 million.
Southwestern also said in the call that it will be able to keep production flat with about $700.0 million of capital spending in 2017. But SWN is planning on capital spending of $1.2 billion–$1.4 billion in 2017. That means its capital spending will be 85.0% higher than what it needs to keep production (USO) (UNG) flat at the 2016 level.
Article continues below advertisement
Will higher capital spending translate to higher production?
Will higher capital spending result in higher production for SWN? The short answer is yes. But the important point that needs to be made is that production (UGAZ) (DGAZ) growth won't be in a 1:1 proportion with growth in capital spending, at least for fiscal 2017.
Typically, upstream companies get production benefits from capital spending over a period of a few years. In SWN's case, most of the production benefit from capital spending in 2017 will be realized in 2018.
In its 1Q17 update presentation, SWN said, "2017 program delivers approximately 260 Bcfe [billions of cubic feet equivalent] of incremental 2018 volumes."
Another benefit will be a lower maintenance capital requirement in 2018. Based on its current 2017 capital spending guidance, SWN's 2018 maintenance capital will fall to $500.0 million–$600.0 million.