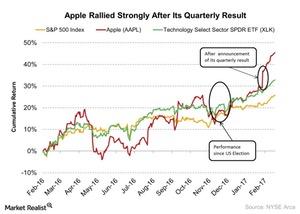 Why David Tepper Reduced His Position in Apple
David Tepper on Apple
David Tepper shared his view on Apple (AAPL) in a recent interview. He said that he trimmed his position because he is a little worried about the border adjustment tax with China. He believes that Donald Trump's proposed border adjustment tax might impact trade relations with China.
Article continues below advertisement
Berkshire Hathaway's position in Apple
On May 16, 2016, Berkshire Hathaway (BRK) took a new stake worth $1.0 billion in Apple (AAPL). On the other hand, after Apple reported its 1Q16 earnings on April 26, 2016, billionaire investor Carl Icahn exited his huge position in Apple. His decision was based on increasing concerns over China (FXI) (YINN) (ASHR). He thinks that China's weakness is already hampering the stock's price performance and will continue to hamper it in the future. After Carl Icahn exited his position, stock prices fell, and Berkshire Hathaway took a new stake at that time. This move was an example of Buffett's strategy of "don't be afraid to buy the dips."
According to the institutional ownership report, Berkshire Hathaway is the eighth largest investor in Apple and holds nearly 57.3 million shares as of 4Q16. Its total investment in AAPL is worth ~$7.9 billion. In 4Q16, Berkshire Hathaway increased its holdings in Apple. Apple's growing customer base and services for its various product segments could be important growth drivers for the stock.
Has Apple outperformed the broader market in the last year?
In the last year, Apple has risen 31% as of March 10, 2017. The Technology Select Sector SPDR ETF (XLK) rose 23.5%, and the S&P 500 Index (SPY) (QQQ) (IVV) rose 17.5% over the same time period. AAPL accounts for ~14.9% of XLK's holdings. AAPL has outperformed XLK and the broader markets.
You may be interested to read, Analyzing Warren Buffett's Top Holdings and Investment Strategy.