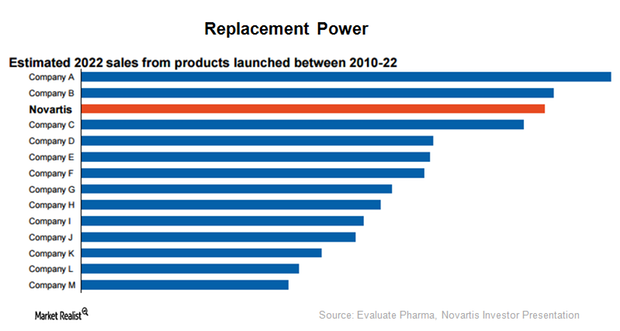 Consistent Performance Measurement May Improve Novartis's R&D
By Margaret Patrick

Dec. 4 2020, Updated 10:53 a.m. ET
Performance measurement
Novartis (NVS) has been focused on consistently measuring the performance of its research and development (or R&D) programs using metrics such as output, cost, returns, quality, and cycle time. The company compares these metrics with industry benchmarks to identify the company's current position. This exercise also helps Novartis to develop a strategy that will position it as a leader in these areas.
Based on output, or the number of new molecular entity approvals, Novartis is currently in a leading position in the pharmaceutical industry. The company is also a leader in the industry based on time required for each phase of clinical trial and overall cycle time.
Article continues below advertisement
Improvement areas
Novartis aims to generate higher returns on investment from its research programs. Currently, Novartis ranks third in terms of replacement power in the pharmaceutical industry, which highlights the depth of the company's research pipeline. This can also prove to be a major differentiating factor for Novartis, enabling the company to compete effectively with peers such as Merck (MRK), AstraZeneca (AZN), and Novo Nordisk (NVO).
Novartis is focusing on reducing its total spending and cost per new therapeutic drug (or NTD) as well as improving its cost parameter. Plus, the company also plans to improve its drug quality, which will translate into higher peak sales per NTD.
If Novartis manages to improve these parameters in 2017, it could have a positive impact on its stock and on the Vanguard FTSE Developed Markets ETF (VEA). Novartis makes up about 0.93% of VEA's total portfolio holdings.
In the next article, we'll explore how Novartis has been introducing efficiencies in its R&D program.