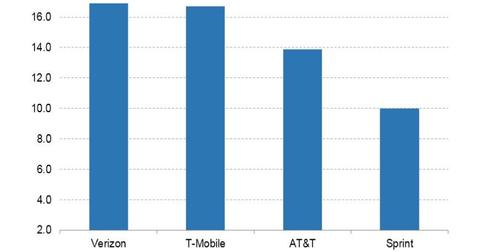 Can Samsung Pay Mini Put Pressure on Apple Pay?
By Ruchi Gupta

Updated
Available cross-Android platform
In what appears to be a major break from industry tradition and a possible setback for Apple (AAPL), Samsung (SSNLF) is expanding the availability of its mobile payment service, Samsung Pay. The company has developed a simplified version of the payment app, Samsung Pay Mini.
Unlike its big brother, Samsung Pay Mini will be available on non-Samsung Android smartphones as well. Samsung is making this move at a time when the global mobile payment market is expected to grow to $780 billion in 2017, up from $620 billion in 2016, according to a report from TrendForce. The chart below depicts the growth projection of the global mobile payment market.
Article continues below advertisement
Going beyond native devices
Handset manufacturers such as Apple and Samsung have traditionally limited their mobile payments to their native handsets.
By making Samsung Pay Mini available across the Android platform at a time when Apple has limited Apple Pay as an iPhone-only affair, Samsung could discourage Android users who may want to switch to the iPhone simply because of Apple Pay. Although the Mini Payment feature offers limited functionality, it supports online payments, which are on the rise due to the growing penetration of online shopping.
First in Korea, then everywhere
Samsung expects to initially make its Mini Payment service available in its home country of South Korea before it expands it abroad, which also seems to be a strategic move. Apple recently confirmed that it is working on opening a company-owned retail outlet in South Korea, with the location likely to be near Samsung's headquarters in the nation's capital, Seoul.
The company is also taking its main Samsung Pay service to more markets, including India. The company has partnered with American Express (AXP) to back the Indian launch of Samsung Pay, and it could add Visa (V) and Mastercard (MA) to the mobile payment's network in India.