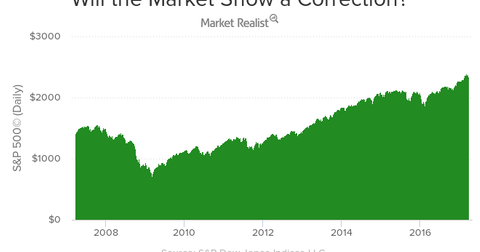 Blackstone's Byron Wien: The Market Was Due for a Correction
By Sarah Sands

Updated
Byron Wien's CNBC interview
In an interview with CNBC's "Squawk on the Street" on Wednesday, March 22, 2017, Byron Wien, a prominent investment strategist and the vice chair of Blackstone Advisory Partners, shared his views on the following:
why the market is correcting
deregulation and tax reform
US economic growth
[marketrealist-chart id=2003024]
Article continues below advertisement
Byron Wien on market correction
Since the US election, the market (SPY) (QQQ) has seen huge movements. The index has touched new highs on a daily basis. However, in the last seven trading days, we saw that the index showed some pull back. Investors became cautious about market (VFINX) (IWM) (IVV) movement. Byron Wien said, "My view is that the market was due for a correction."
Donald Trump made various promises during his election campaign. His pro-growth agenda, proposed deregulation, and promises regarding various policy changes drove market movement in the past four months.
Some fundamental factors also supported the market rally during this period. Various US economic indicators have improved in recent months. The improvement in labor market conditions, consumer spending, consumer sentiment, manufacturing PMI, and services PMI also supported the market rally.
However, the market rally is showing a pull back. President Trump's efforts to replace the Affordable Care Act are failing so far, which has weighed on the index. Byron Wien said, "The market had gone up almost every day since the election. And it was based on Trump being able to implement his pro-growth agenda." Wien continued, "It's correcting because maybe Trump won't be as successful in implementing legislation as he promised."
In the next part of this series, we'll analyze Byron Wien's view on economic growth.