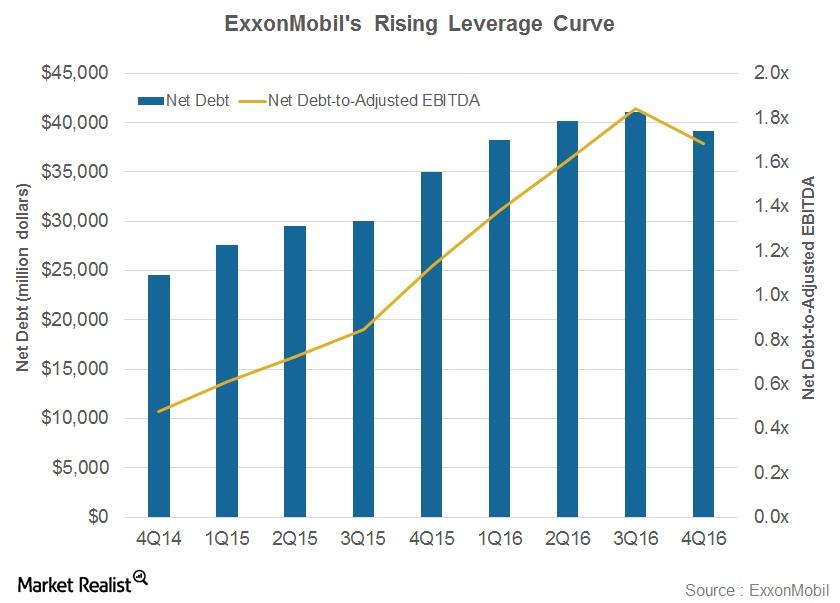 Assessing ExxonMobil's Leverage Position
By Maitali Ramkumar

Dec. 4 2020, Updated 10:53 a.m. ET
ExxonMobil's leverage position
Until now, we've discussed ExxonMobil's (XOM) focus on its integrated earnings model, its 2017 capital expenditure (capex) details, its business segment dynamics, and the operational performances of its segments. In this article, we'll examine the company's leverage position.
ExxonMobil's net debt-to-adjusted EBITDA (earnings before interest, tax, depreciation, and amortization) ratio stood at 1.7x in 4Q16, lower than the average industry ratio of 2x.
Article continues below advertisement
The industry ratio considers an average of 13 integrated energy companies worldwide, including Argentinian company YPF (YPF), French company Total SA (TOT), China's PetroChina (PTR), and Canadian company Suncor Energy (SU). For exposure to larger companies, you can consider the iShares Core S&P 500 ETF (IVV). The ETF also has ~7% exposure to energy sector stocks.
In 4Q16, XOM's total debt-to-capital ratio stood at 19.7%, lower than the industry average of 35%. The debt-to-capital ratio shows a company's leverage position and capital structure.
Net debt-to-adjusted EBITDA rose
ExxonMobil's net debt-to-adjusted EBITDA ratio rose from 0.5x in 4Q14 to 1.7x in 4Q16. Before we analyze the rise in the ratio, let's understand the company's net debt trend.
XOM's net debt rose to $39.1 billion in 4Q16 compared to 4Q14 due to a rise in its total debt coupled with a fall in its cash and cash equivalents during the period. Its total debt rose 47% over 4Q14 to $42.7 billion in 4Q16, and its cash and equivalents fell 21% to $3.7 billion compared to 4Q14.
On the other hand, from 4Q14 to 4Q16, XOM's adjusted EBITDA fell steeply. In this way, its rising net debt and its falling EBITDA led to a rise in its net debt-to-EBITDA ratio. 
ExxonMobil's leverage ratio, that is, its net debt-to-adjusted EBITDA ratio, has been consistently trending higher, but it's still the lowest in the integrated energy sector. A low leverage ratio means that in a scenario of a shortage of funds, it can increase its debt levels and continue its operations without the market or credit ratings agencies getting too worried. These circumstances place ExxonMobil in a decent leverage position.