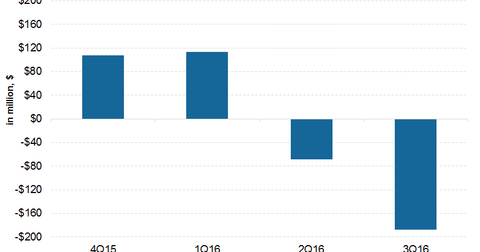 Why Vanguard Filed for Bankruptcy amid Commodity Price Recovery
By Kurt Gallon

Updated
Commodity price exposure
Vanguard Natural Resources (VNR), an upstream producer, has the majority of its earnings exposed to commodity prices. Its losses declined in 3Q16, driven by a slight recovery in commodity prices.
The company reported an operating loss of $252.1 million in 3Q16 compared to an operating loss of $468.9 million in 3Q15. However, the prior periods' shortfalls were high and couldn't be recovered without a restructuring under Chapter 11 of the United States Bankruptcy Code.
Vanguard's high leverage
Operating losses combined with significant outstanding debt resulted in high leverage for Vanguard Natural Resources. Until recently, VNR used internally generated cash flows for distribution payments and borrowed from the capital market to fund its organic projects and acquisitions. That resulted in a significant rise in leverage during recent quarters and a decline in its liquidity position.
VNR had $187.5 million of deficiency payments due under its credit facility for 2017. It said earlier that the excess cash flow in 2017 wouldn't be sufficient to pay these deficiency payments.
Vanguard's peers
Vanguard Natural Resources' peers, including EV Energy Partners (EVEP) and Legacy Reserves (LGCY), are facing similar or slightly better situations in terms of liquidity and leverage. We'll have to wait and see how these upstream MLPs manage to stay afloat in the current commodity price environment.
EVEP recently announced that it's making a $59.0 million acquisition in the Eagle Ford. It's also making a $52.0 million divestiture in the Barnett shale. In October 2016, LGCY closed a $300.0 million term loan from GSO Capital Partners.