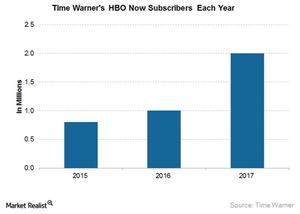 Why HBO Now Is of Strategic Importance to Time Warner
By Shirley Pelts

Updated
HBO Now
HBO Now is increasingly growing in strategic importance for Time Warner (TWX). The company stated on its 2016 earnings call that HBO Now had crossed 2 million subscribers in the United States. HBO Now is also distributed by third-party digital distributors such as Amazon (AMZN).
TWX was asked on its 2016 earnings call about the effect of its tie-up with Amazon on its streaming subscribers. Time Warner stated that it had observed that its tie-up with Amazon had accelerated the subscriber base for HBO Now. The company further stated that it planned to tie-up with other third-party digital distributors in the near future to improve the reach of its HBO brand and give consumers the option to subscribe to HBO Now through multiple distributors.
Article continues below advertisement
The company was also asked about HBO Now's deal with BAMTech and whether it intended to move away from the deal. However, Time Warner clarified that its deal with BAMTech ran through the end of this year and that it had tied up with BAMTech to launch HBO Now. However, the company was also in the process of building a platform on which it could launch its streaming services such HBO Now and HBO GO globally.
Relationship between HBO Now's churn and its programming
Time Warner also referred to the relationship between the churn for HBO Now and its programming on its 2016 earnings call. The company stated that for the last couple of months, it had observed the lowest churn since the introduction of HBO Now. The company further elaborated that it believed that this low churn was the result of its programming being viewed across different genres.
The company also stated that it would continue to invest in its original programming in 2017. Time Warner stated on its 2Q16 earnings call that, given the rising viewership for its original programming, it would be increasing the amortization period for its original programming.
The change in the amortization period resulted in a benefit of ~$20 million for Time Warner in 4Q16. However, it didn't see any benefit from the amortization change in 2017.