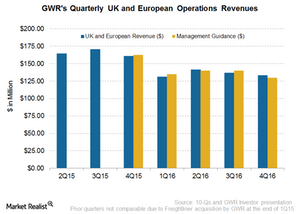 Why Genesee and Wyoming's European Revenue Fell in 4Q16
By Samuel Prince

Feb. 13 2017, Updated 10:36 a.m. ET
Genesee and Wyoming's European revenue
In this article, we'll go through the performance of Genesee and Wyoming's (GWR) UK and European operations and management's insights. GWR's European operations include the full-year impact of the Freightliner acquisition in fiscal 2016 results. The European operations' revenue fell 17.4% to $132.9 million in 4Q16 from $161.0 million in the fourth quarter of 2015.
Article continues below advertisement
Why revenue fell in 4Q16
The 17.4% fall in European revenue was mainly due to the weaker British pound and reduced Continental Europe intermodal revenue at ERS. In 4Q16, GWR incurred a $10.0 million charge for idling leased coal cars in the United Kingdom. Plus, the company also wrote down $22.0 million of Continental Intermodal European operations called ERS. The proposed restructuring of ERS will result in the discontinuation of open train services from the Netherlands.
The European and UK revenue were also impacted by lower utilization of open train services. The European/UK coal revenue dropped $2.5 million in 4Q16 though it was partially offset by incremental revenue of $4.0 million from new business in the UK.
European shipments in 4Q16
UK's coal shipments fell due to warm winter weather, high stockpiles, and natural gas competition. The coal shipments saw a fall of 23.6% in 4Q16 compared with 4Q15. However, some respite came from intermodal traffic, which fell 4.4% in the same quarter.
Management insights
GWR expects $580.0 million in revenue in UK and European operations in 2017 compared to $542.0 million in the previous year. Notably, the company predicts same railroad revenue in the European/UK operations to fall 11% in 2017, which is mainly due to the weaker pound owing to the Brexit vote and the restructuring of the ERS business. Overall, the company anticipates the European coal revenue to fall $7.0 million in 2017.
However, the intermodal revenue rise in the UK and Poland is expected to make up the shortfall in coal revenue in 2017. The proposed Pentalver acquisition is expected to add $100.0 million in revenue to the European operations in 2017.
In the recent past, the railroad's intermodal revenue growth offset the shortfall in coal revenues. However, due to moderate fuel prices and reduced highway to rail, the intermodal business is facing headwinds. Let's look at the intermodal revenues of GWR's peers in 4Q16 for a better perspective:
The above railroads including GWR make up the portfolio holdings of the First Trust Industrials and the Producer Durables AlphaDEX Fund (FXR). Investors who want indirect exposure to railroad stocks can invest in FXR, which holds 1.5% in GWR and 6% in all railroads.