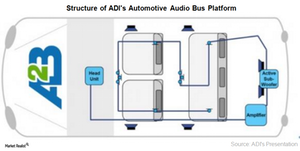 Where Are ADI's Automotive Technology Developments Heading?
By Puja Tayal

Feb. 13 2017, Updated 9:06 a.m. ET
ADI's technology developments in automotive
As we discussed in the preceding part of this series, Analog Devices (ADI) is focusing its technology developments in these areas and has also made a few acquisitions to improve its automotive offerings. ADI Vice President of Automotive Mark Gill highlighted a few of the company's automotive developments at the J.P. Morgan Tech Forum at CES (Consumer Electronics Show) 2017, the details of which are below.
Article continues below advertisement
Automotive Audio Bus technology
ADI unveiled its A2B (automotive audio bus) platform, which delivers high-end, in-cabin audio fidelity while improving fuel efficiency. The A2B car infotainment technology is like a complete audio cockpit that connects all types of audio technology in the car to a single wire. This reduces wiring costs and vehicle weight, which can improve fuel efficiency.
LIDAR technology in automotive
In November 2016, ADI acquired solid-state, liquid crystal, optical laser beam steering technology from Vescent Photonics. The optical laser beam steering technology overcomes the shortcomings of other mechanical beam steering methods such as reliability, size, and cost.
The ADAS (advanced driver assistance system) uses camera and RADAR to identify blind spot and pedestrians and avoid a collision. The camera identifies the object and the RADAR measures the distance from the object through radio-frequency electromagnetic waves. However, LIDAR (light detection and ranging) performs both tasks more accurately using laser beams.
Gill stated that the LIDAR technology enables ADI to offer greater safety and brings it closer to autonomous driving. He believes that LIDAR's total addressable market is above $1 billion.
Semiconductor content per vehicle
If we measure ADI's automotive offerings in the form of content per vehicle, it could range from $50 for low-end cars to $250 for high-end cars, according to Gill. The content per vehicle increases with the addition of radar and audio amplifying content.
This increase in automation level is boosting the radar and LIDAR content in cars, presenting an opportunity for ADI to deliver up to $500 of content per vehicle. Of course, this increasing enthusiasm around HEVs and autonomous cars presents more growth opportunities. Infineon Technologies, for example, is eyeing HEVs, whereas NXP Semiconductors (NXPI), Intel (INTC), and Nvidia (NVDA) are eyeing autonomous cars.
Now let's look at ADI's Communications segment.