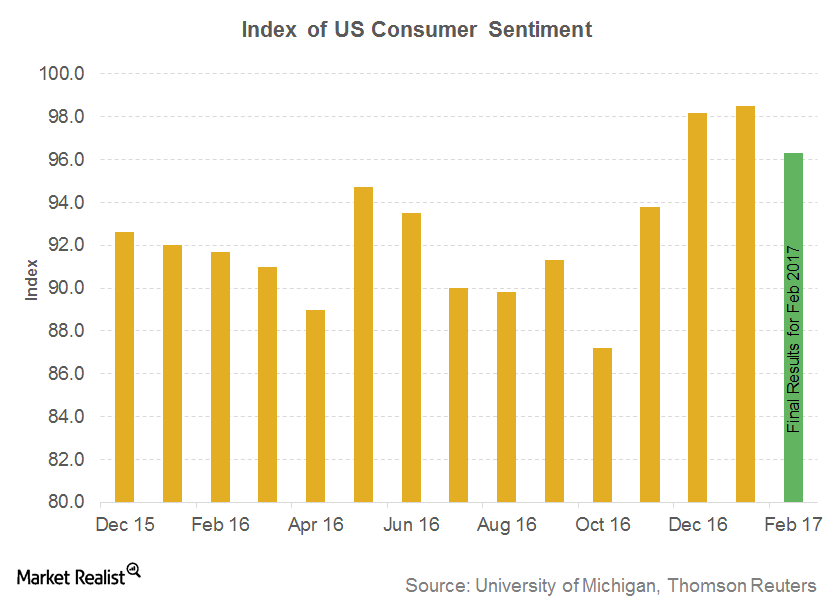 What February Consumer Sentiments Mean for the Auto Industry
By Jitendra Parashar

Feb. 28 2017, Updated 5:41 p.m. ET
The index of consumer sentiments
The US Consumer Sentiment Index data are compiled by the University of Michigan and Thomson Reuters and are reported on a monthly basis. 
The Survey Research Center conducts the underlying survey, which consists of at least 500 telephone interviews with a cross-section of consumers in the continental United States.
Investors also should look at recent trends in consumer sentiment that reflect consumers' sentiments toward the country's economic prospects.
Article continues below advertisement
February data
According to the latest data released on February 24, 2017, the US Consumer Sentiment Index was at 96.3, much higher than 91.7 in February 2016. 
In January 2017, the index rose to 98.5, up from 92.6 in January 2016, showcasing significant improvement in the US consumer sentiment.
Positive for the auto industry?
In the chart above, we can see the recent trend in the US Consumer Sentiment Index. The index reflects a very positive trend and is near its highest level since February 2004.
In the last few months, we've seen impressive improvements in the US consumer sentiment. The overall trend in the US consumer sentiment remains strong.
A higher consumer sentiment index should be positive for US vehicle sales. A rise in the consumer sentiment is one of the possible reasons justifying the uptrend in auto sales.
Major automakers (FXD), including General Motors (GM), Ford Motor Company (F), Toyota Motor (TM), and Fiat Chrysler (FCAU), benefited from the positive trend in the US auto industry last year. Therefore, we can expect strong consumer sentiments to drive US auto sales higher in the coming months.
Continue to the next article, where we'll look at the dollar index's recent movements and how these movements could affect automakers' profitabilities.