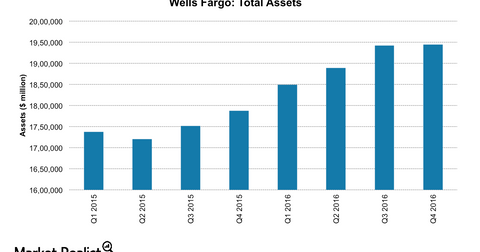 Wells Fargo Failed the Federal Reserve's Living Will Test
By Rebecca Keats

Updated
Living will test
In another obstacle to Wells Fargo's (WFC) plans, the Federal Reserve stated on December 13, 2016, that the embattled bank failed the living will test and would face penalties. The Fed notes that this test requires banks with more than $50 billion in consolidated assets to submit a resolution plan explaining the company's strategy "for rapid and orderly resolution in the event of material financial distress or failure of the company."
Article continues below advertisement
According to the Wall Street Journal, "Living wills are a requirement of the 2010 Dodd-Frank law, which sought to prevent bailouts partly by forcing big banks to develop a plan for how they could go through bankruptcy without taxpayer assistance. The law directed regulators to judge whether plans are credible and gave them power to sanction, or even break up, firms that are found lacking."
Wells Fargo (WFC) was not able to pass an initial assessment in April 2016. After they failed their initial tests in April, Wells Fargo's peers (XLF) JPMorgan Chase, Bank of America, State Street (STT), and BNY Mellon (BK) submitted revised plans that were cleared by the Fed.
As a result of WFC's failure to pass the first assessment, regulators imposed sanctions on Wells Fargo. In its report, the FDIC stated, "The bank may not establish international bank entities or acquire non-bank subsidiaries."
What's next?
Wells Fargo must submit a revised plan by March 31, 2017. If this plan passes, regulators may lift these restrictions. If Wells Fargo fails to clear the hurdles in March, it may be compelled to divest some of its assets to meet the Fed's requirements. This marks the first time that the Fed has imposed penalties on a bank for failing the living will test.
In our view, the initial results of the living will test presents another blow to Wells Fargo's reputation. It comes at a time when the company is still trying to rebuild its image after its fake account scandal.