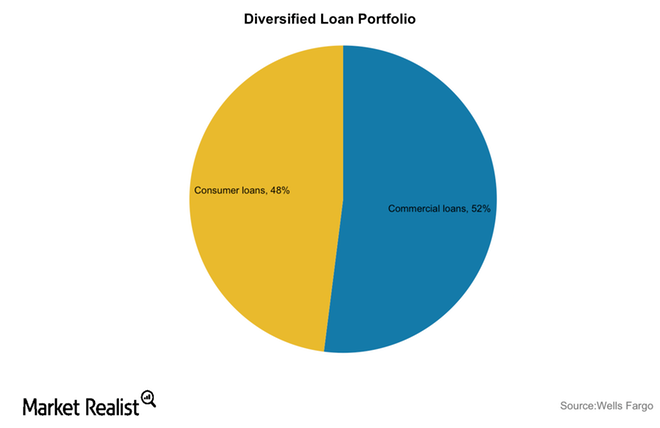 Wells Fargo Benefits from a Solid Business Model
By Rebecca Keats

Feb. 15 2017, Updated 7:35 a.m. ET
Wells Fargo's business model
Wells Fargo (WFC) is the strongest among the large banks in the United States. Apart from being the most profitable bank in the US, it also has a large deposit and loan base.
Wells Fargo has a balanced business model based on three pillars:
diversified loan portfolio
balanced spread and fee income
diversified fee generation
Article continues below advertisement
Diversified loan portfolio
With a well-diversified loan portfolio, Wells Fargo (WFC) has a healthy split between commercial and consumer loans. Wells Fargo has relied heavily on its mortgage loan portfolio for its growth. In 4Q16, Wells Fargo had a loan portfolio of $964 billion.
In comparison, WFC's peers Bank of America (BAC) and JPMorgan Chase (JPM) had loan portfolios of $900 billion and $894 billion, respectively.
Diversified fee generation
Wells Fargo's well-diversified revenue generation streams provide an advantage to the bank. Its successful cross-selling strategy helped it gain a competitive advantage while driving revenues and expense synergies.
In the past, Wells Fargo's cross-selling practices had helped it gain a competitive edge over its peers. However, after the fake account scandal was revealed in 2016, Wells Fargo eliminated these cross-selling practices.
Low risk, stable business model
As a result of its relatively low risk exposure to global events and careful management, Wells Fargo had long been considered the strongest and most reliable among the "too big to fail" banks (XLF) in the US.
Unlike its peers JPMorgan Chase (JPM) and Goldman Sachs (GS), Wells Fargo has relatively low exposure to investment banking and trading, which can be risky. In 2016, WFC's trading assets accounted for 5.8% of its total assets, compared to 14.9% for JPMorgan Chase and 13.9% for Citigroup.