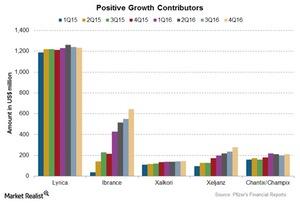 Understanding Pfizer's Growth Contributors in 4Q16
By Mike Benson

Feb. 27 2017, Updated 9:08 a.m. ET
Understanding growth contributors
The key performers in Pfizer's (PFE) product portfolio include Lyrica, Ibrance, Xeljanz, and Eliquis, which are part of the company's Innovative Health business.
Article continues below advertisement
Positive growth contributors
The following contributed to Pfizer's positive growth in 4Q16:
1.8% rise in total Lyrica revenues at $1.23 billion in 4Q16 compared to $1.21 billion in 4Q15, primarily due to a 14.0% rise in US sales, offset by lower sales in international markets
more than 100.0% revenue growth for Ibrance, the new blockbuster drug to treat advanced breast cancer, launched in February 2015, at $643.0 million in 4Q16 compared to $315.0 million in 4Q15 due to a strong response from healthcare practitioners
21.0% rise in BMP2 revenue at $76.0 million in 4Q16
sales of $145.0 million and $278.0 million for Xalkori and Xeljanz, respectively, in 4Q16, with Xalkori's revenue rising 8.0% and Xeljanz's revenue rising more than 62.0% compared to 4Q15
17.0% rise in revenue for Chantix/Champix to $211.0 million in 4Q16 compared to $180.0 million in 4Q15
21.0% rise in revenue for the EpiPen, a key product of Mylan (MYL) that contains drugs manufactured by Pfizer, to $87.0 million for 4Q16
rises in revenue for Medrol and Sulperazon sterile injectable products of 3.0% and 9.0%, respectively, to $119.0 million and $93.0 million, respectively
7.0% rise in Lipitor, a drug for reducing cholesterol and triglycerides in the blood, to $464.0 million in 4Q16 compared to $456.0 million in 4Q15 following growth in US and international markets
Alliance revenues rose ~36.0% to $591.0 million in 4Q16 compared to $431.0 million in 4Q15. Those revenues include Eliquis, Rebif, Spiriva, and Aricept. Overall, Alliance revenues have fallen over the past few years due to the expirations of the Enbrel and Spiriva collaborations.
To divest the company-specific risks, you can consider ETFs such as the iShares Core High Dividend (HDV). HDV holds ~4.9% of its total assets in Pfizer, 3.5% in Merck & Co. (MRK), and 1.5% in Eli Lilly (LLY).