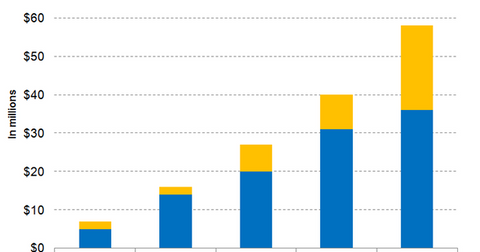 Repatha Represents a Solid Growth Opportunity for Amgen in 2017
By Margaret Patrick

Updated
Corlanor trends
Amgen's (AMGN) heart failure drug, Corlanor, has played a pivotal role in enabling market-wide relationships for the company. However, due to its restricted label, the drug could remain a niche product for the company. Amgen has projected $70 million in sales for Corlanor in 2017. To learn more about Corlanor, please read Amgen Launches Corlanor, Chronic Heart Failure Drug.
If Corlanor can exceed these revenue projections in 2017, it may positively affect Amgen as well as the iShares Russell 1000 Growth ETF (IWF). Amgen makes up about 1.1% of IWF's total portfolio holdings.
Article continues below advertisement
Repatha revenue trends
In 4Q16, Repatha's sales totaled approximately $58 million, which is a quarter-over-quarter rise of ~45.0%. In the US, the prescription share of Repatha was close to 56%, and this market share is expected to keep rising in 1Q17. To learn more about Repatha, please read Amgen Launches Innovative Cardiovascular Drug: Repatha.
Despite Amgen's efforts to improve access for Repatha, the drug has seen high rejection rates in the US due to stringent preauthorization requirements. To learn more about payer access for Repatha, please refer to Could Repatha Be Amgen's Key Growth Opportunity in 2016?
In light of Pfizer (PFE) discontinuing its PCSK9 inhibitor research program, Repatha is expected to benefit from the reduced competition. On January 4, 2017, Amgen obtained a permanent injunction from the US District Court for the District of Delaware related to Sanofi (SNY) and Regeneron's (REGN) PCSK9 inhibitor therapy, Praluent, infringing two of Repatha's patents.
On February 8, 2017, this order was stayed by the US Court of Appeals for the Federal Circuit. While the former order would have required Sanofi and Regeneron to stop sales of Praluent by February 21, 2017, the stay would allow the companies to continue marketing the product while they appeal the district court's orders.
In the final article in this series, we'll discuss Amgen's oncology drug, Kyprolis, in greater detail.