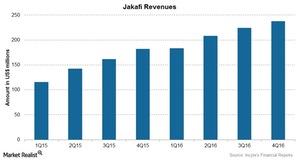 Performance of Incyte's Jakafi in the United States
By Mike Benson

Updated
Jakafi
As we've already seen, Incyte's (INCY) Jakafi (ruxolitinib) is the only drug for the treatment of myelofibrosis and polycythemia vera, rare types of blood cancer, that's approved by the FDA (U.S. Food & Drug Administration). Incyte sells the drug in the United States and has collaborated with Novartis (NVS) to commercialize it outside the United States. Incyte receives royalties for sales of the drug.
Revenues for Jakafi rose more than 42.0% to $852.8 million in 2016, from $601.0 million in 2015. The revenues are from US sales. The rise in revenues is due to volume growth as well as higher prices for the drug in 2016. The above graph shows revenues for Jakafi over the last eight quarters.
Article continues below advertisement
Other details about Jakafi
Below are some important details about Jakafi:
Jakafi was Incyte's first product approved for sale in the United States.
Incyte has patents that cover the composition of the matter and use of Jakafi through November 2026, and patent extensions have been granted through late 2027.
The FDA has granted orphan drug status to Jakafi for myelofibrosis, polycythemia vera, and thrombocythemia.
On December 30, 2016, Incyte announced that the first patient was treated in its REACH-1 pivotal clinical trial for Jakafi for the treatment of patients with acute graft-versus-host disease (or GVHD).
Jakafi is the first FDA-approved JAK (Janus-associated kinase) inhibitor for any indication. It's an oral JAK1 and JAK2 inhibitor.
FDA approval for Jakafi was based on two Phase 3 studies—Comfort-I and Comfort-II—that demonstrated significant reductions in splenomegaly, or enlarged spleen, after using Jakafi.
Incyte has established a patient assistance program called IncyteCARES so all eligible patients can have access to Jakafi. CARES stands for Connecting to Access, Reimbursement, Education, and Support.
To divest the risk, you can consider ETFs such as the First Trust Health Care AlphaDEX ETF (FXH), which holds 1.5% of its total assets in Incyte, 2.1% in Mallinckrodt (MNK), 2.0% in Humana (HUM), and 1.7% in Johnson & Johnson (JNJ).