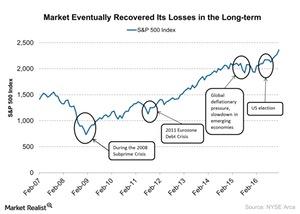 Jack Bogle Advises Investors to Focus on Long-Term Investments
By Sarah Sands

Updated
Jack Bogle on long-term investments
Jack Bogle believes long-term investments provide handsome returns. In the previous part of this series, we saw that Bogle advised investors to be cautious about the market rally (IVV) (IWM) as it keeps making new highs.
Bogle said, "This is a big rally in the market — clearly a bull market or a mini bull market — but when we look out in time, and I don't pay a lot of attention to the daily things that happen along the way, I look more in 10 year intervals, and in 10 years looks like our GPD might grow 2 percent, if we are lucky."
Article continues below advertisement
His statement indicated that he is more confident in long-term investments than the short-term market rally (VFINX) (QQQ). With long-term investments, investors shouldn't be concerned about short-term macro events. As time passes, markets recover from their losses. In contrast, short-term investors have to be concerned about short-term market events.
Long-term horizon
The broad market S&P 500 Index (SPY) has risen nearly 221% since the 2008 subprime crisis as of February 20, 2017. During the 2008 global financial crisis, the index fell nearly 51% from the high of 1,549 on September 3, 2007, to a low of 735 on February 1, 2009.
If investors have a long-term horizon, then macro events don't affect returns as much. In 2016, various macro events such as the slowdown in China's economic activity, global deflationary pressure, and Brexit hampered market movement. However, after the US election, the optimistic view about the US economy mainly drove the market movement in late 2016.
In the next part of this series, we'll analyze Jack Bogle's view on passive investment strategy.