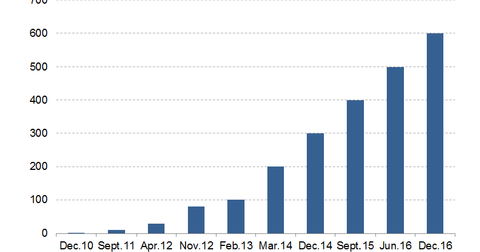 Is Facebook Shortchanging Instagram?
By Ruchi Gupta

Updated
Instagram's sharing problem
Facebook (FB) and Snapchat are in a sort of arms race to woo young users and appeal to advertisers. Competition between the two is expected to intensify as Snap, the parent company of Snapchat, is set to go public later this year in what is likely to be the largest IPO (initial public offering) after Alibaba's (BABA) in 2014.
Besides WhatsApp, Instagram is Facebook's other weapon against Snapchat. But could Instagram's new monetization strategy cause publishers to defect to Snapchat?
Attracting a stream of unique content
Instagram and Snapchat compete in several fronts, and one of the areas the two are competing in lately is in getting a stream of unique content onto their platforms. In that space, Snapchat has a service called Discover, while Instagram has Stories.
Although the services are nearly copies of each other, the apps have adopted different strategies in dealing with their content partners. While Snapchat shares revenue generated on its Discover platform with publishers, Instagram is keeps everything for itself, raising questions on whether Instagram could be perceived as offering Stories publishers a raw deal.
According to a Wall Street Journal report, Instagram isn't commenting on how monetization of its Stories feature may evolve. As for now, Stories' publishers can generate direct income by creating sponsored content, but they have no part in ad revenue Instagram generated from ads served against their content.
Instagram publishers are optimizing
Although Instagram publishers are hopeful Stories' monetization will improve in their favor, Snapchat could use Instagram's lack of sharing revenue to portray itself as a better platform for publishers and cause defection of talents from Instagram.
For this reason, Facebook, its messaging app Instagram, Snapchat, Alphabet's (GOOGL) Google, Twitter (TWTR), Yelp (YELP), and other online advertising companies have stepped up their hunt for digital ad spending.