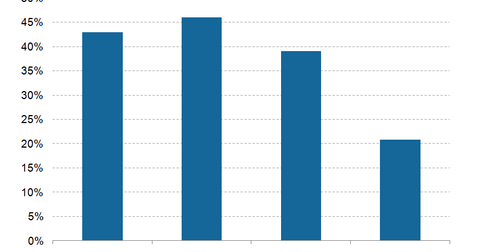 How Google YouTube Is Helping Advertisers Reach More People
By Puneet Sikka

Updated
Advertisers are using YouTube to attract viewers
Advertisers and marketers are seeing great success on Google's (GOOG) YouTube platform, according to Google. During its 4Q16 earnings conference call, Google said that Turner Sports, a subsidiary of Time Warner (TWX), partnered with YouTube for the opening night of the NBA (National Basketball Association). The event helped Turner Sports "reach 19 million more people across the web with 17% left in ad recall."
Air France has used YouTube's TrueView video ads for its marketing campaigns. It got more than 100 million views. TrueView ads are in-stream video ads that play automatically before the start of a YouTube video.
A few months ago, YouTube launched its bumper ads format, which the company defines as "snackable" six-second videos that drive "incremental reach and frequency." Google claims that these ad formats are higher priced ads that help the company monetize its YouTube offerings.
Article continues below advertisement
Improvement in Google's ad measurement tools
Google has also been trying to improve its ad measurement tools in order to provide higher ROI (return on investment) to its advertisers. In the last quarter, Google provided the example of IKEA, which used Google's store visit measurement tools to gauge the effectiveness of its digital marketing campaigns. IKEA realized five times higher ROI from its digital campaigns on Google and YouTube than its previous estimate.
This kind of innovation is helping YouTube grow revenues at a faster pace. According to a report from eMarketer, YouTube continues to be the leader in the video ad market. The report estimates that YouTube's share of this market will be around 19.6% by the end of 2016. This market share is impressive, considering that Facebook (FB) and Twitter (TWTR) have become aggressive in the video ad space in the past year or so.