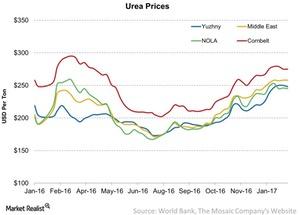 What Happened to Urea Prices in the Week Ending February 10
By Adam Jones

Feb. 13 2017, Updated 9:07 a.m. ET
Urea fertilizer
Urea is upgraded from ammonia. It's the most globally used nitrogen fertilizer including UAN (urea ammonium nitrate) and ammonia. According to the International Fertilizer Industry Association, urea accounts for 56% of all nitrogen fertilizers consumed globally. CF Industries (CF), one of the largest producers of nitrogen fertilizer, is set to announce its earnings on February 15. To know what to expect, read CF Industries to Announce Its 4Q16 Earnings: What to Expect.
For the week ending February 10, 2017, the overall movement in urea prices was mixed. It's important for nitrogen investors (MOO)(DJIA-INDEX) to watch the prices of nitrogen fertilizers such as urea.
Article continues below advertisement
Granular urea
Granular urea prices at the three locations in the above chart were flat to negative. Overall, prices fell by an average of 14 basis points week-over-week at these three locations. Granular prices at NOLA (New Orleans) fell by 41 basis points to $222 per metric ton—compared to $224 per metric ton a week ago. In the Middle East, granular urea prices remained flat at $258 per metric ton week-over-week. Similarly, urea prices in the Corn Belt region of the US remained flat at $249 per metric ton week-over-week.
Lately, urea prices have been supported by favorable supply and demand dynamics. Improving prices, as you can see in the above chart, are positive nitrogen producers. Companies such as CF Industries, Terra Nitrogen (TNH), CVR Partners (UAN), and PotashCorp (POT) will likely benefit from rising nitrogen prices. Granular urea prices at the three locations in the above graph rose 17% YoY (year-over-year).
Prilled urea
Last week, prilled urea prices fell to $248 per metric ton in the Yuzhny area of Ukraine. Prices at Yuzhny have risen 22% YoY.
Next, let's take a look at natural gas prices.