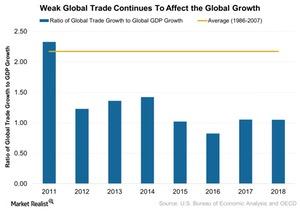 Fiscal and Trade Policies to Work Closely for Economic Growth
By Mary Sadler

Updated
Fiscal stimulus to support economic growth
The world economy (VXUS) (ACWI) grappled with weak growth in the range of 2%–4% for nearly five years after the financial crisis of 2008. Poor private investments and slow public investments have kept global trade growth weak in the last decade. Weak global trade also limited the increase in labor productivity and wages, which in turn could support consumption growth.
Fiscal measures can help catalyze economic activity and push global growth higher through initiatives such as government spending and tax cuts. President Donald Trump and his top advisers are expected to follow his nationalist stance, which would impact the US's global trade policies.
Article continues below advertisement
Negative impact of protectionism on trade
The Trump administration's protectionist policy decisions are expected to affect global trade. As shown in the chart above, trade is growing at a dismal ratio of global trade to GDP growth of ~0.8, compared to the average ratio of ~2.1 from 1986–2007.
According to the OECD economic outlook report, higher trade barriers could have several impacts on global trade:
World trade volume growth is expected to remain weak with a protectionist stance and below 2% in 2016 compared to 2.5% in 2015.
Modest improvement is anticipated in the next couple of years, with global trade growing at ~3.3% in 2018. This estimate is weaker than in previous years due to the possibility of reduced trade resulting from protectionist policies.
Structural factors such as poor trade relations, protectionist policies, and contraction of the global value chain have reduced global trade growth in the last five years. Cyclical factors like recessions in commodity-producing countries and weak fixed investment have also impacted trade growth.
Trump's protectionist stance and his proposed tariff plans, including a destination basis tax, could affect industries with high net imports. The top three sectors in the US likely to be impacted include computers, apparel, and automobiles due to offshore production and reliance on imports.
Some of the companies likely to be affected by high foreign exposure include Skyworks Solutions (SWKS), Qualcomm (QCOM), Broadcom (AVGO), and Micron Technology (MU) in the semiconductor business.
For more information on global trade and the outlook for 2017, please read Global Economy in 2016 and Expectations for 2017.