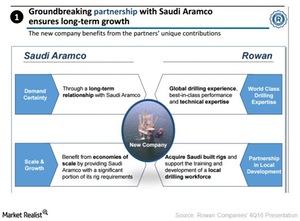 Details about the Rowan-Saudi Aramco Joint Venture
By Sue Goodridge

Mar. 1 2017, Updated 9:06 a.m. ET
Joint venture
In November 2016, Rowan Companies (RDC) and Saudi Aramco entered into a 50-50 joint venture. The joint venture will own, operate, and manage offshore drilling rigs in Saudi Arabia. In this part, we'll discuss the deal and how it will impact Rowan Companies' results.
Article continues below advertisement
About Rowan and Saudi Aramco
Rowan Companies is a global rig drilling service provider. It has a fleet of 29 offshore drilling rigs. It competes with other offshore drillers (XLE) such as ENSCO (ESV), Seadrill (SDRL), Atwood Oceanics (ATW), Pacific Drilling (PACD), Transocean (RIG).
Saudi Aramco—officially Saudi Arabian Oil Company—produces, manufactures, markets, and ships crude oil, natural gas, and other petroleum products.
Contribution
Saudi Aramco and Rowan Companies will both contribute $25 million in cash to capitalize the new entity. As the venture starts, Saudi Aramco will also contribute two jack-up rigs and related assets. Rowan Companies will contribute three jack-up rigs—the Gilbert Rowe, Bob Keller, and JP Bussell. It will also contribute shore-based facilities and related assets. Since the value of these contributions isn't even, Saudi Aramco will contribute cash to maintain the 50-50 ownership split. In 2018, Rowan Companies will contribute the Hank Boswell and the Scooter Yeargain as they complete their current contracts. At that time, Saudi Aramco will contribute equivalent value.
Newbuilds
The venture plans to order up to 20 rigs to be delivered over ten years beginning as early as 2021 to meet base load offshore drilling demand in Saudi Arabia.