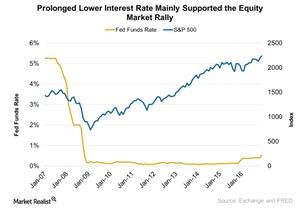 Could Equity Valuations Pick Up in a Lower Interest Rate Environment?
By Mary Sadler

Updated
Equity performance in low-interest rate environment
The stock market tends to follow the performance of the economy and the overall business cycle. A broad understanding of the market states that the prolonged low interest rate environment has been artificially boosting asset prices (IVV) (SPY).
The low interest rate environment is expected to increase money circulation, thereby affecting investor sentiment. It also contributes to low borrowing costs, which affects consumer and business sentiment and encourages overall economic growth.
Article continues below advertisement
The valuations of companies like homebuilders and home improvement retailers tend to be high in a low rate environment, as the demand for these assets increases with low interest rates. From 2010 through 2016, Lennar Corp. (LEN), D.R. Horton (DHI), PulteGroup (PHM), Home Depot (HD), and Lowe's (LOW) posted solid gains of about 230%, 150%, 75%, 370%, and 244%, respectively. However, interest rates aren't the only factor to impact the stock market.
A company's stock price is also driven by performance and profitability. Low interest rates mean cheaper borrowing costs for businesses, and vice versa. This cost influences stock prices, as investors perceive a lower cost of borrowing to allow for increased earnings.
Current equity valuations
According to the S&P 500 Index, current equity valuations are close to the index's historical averages. The low valuations in the past few years could be due to slow growth, resulting in low expectations for future cash flows and lower discounted present values. The average price gains over the last 12 months have made equity valuations cheap compared to other assets.
According to Morgan Stanley Private Wealth Management's Andy Chase, long-term fundamentals look strong with the recent pickup in economic activity. The current PE (price-to-earnings) ratio for US equities in the S&P 500 Index is close to the levels seen before the 2008 financial crisis. Chase believes that they provide attractive investment opportunities.
According to Chase, small valuation changes can have significant consequences for equity prices. He added that in real estate, current capitalization rates are nearly half of their 20-year multiples, and equities are near their 20-year and 30-year average multiples.
The point of concern is the ten-year Treasury yield, which stands at ~2%—well below its 20-year and 30-year averages of ~6.0%.
In the next article, let's look at the bond market and interest rates.