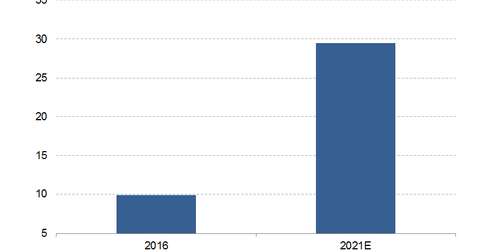 Can Oracle's Startup Strategy Undo Amazon's Cloud Dominance?
By Ruchi Gupta

Nov. 20 2020, Updated 3:15 p.m. ET
Israel to get Oracle's startup accelerator center
Oracle (ORCL) is fighting to shed the tag of cloud computing underdog, now that it has been dwarfed by Amazon.com (AMZN) and Microsoft (MSFT) in the business of selling software and services over the Internet.
The cloud computing industry is wide, but research firm MarketsandMarkets estimates that the finance cloud market will be worth $29.5 billion by 2021, as compared to $9.89 billion in 2016. The firm further estimates that the cloud ERP (enterprise resource planning) market will expand to $29.8 billion by 2021 from $18.5 billion in 2016.
To increase its share of cloud computing market and position itself for the anticipated explosive growth of the industry, Oracle has turned to scouting for promising talents and technologies and away from startups through a startup accelerator programs.
Oracle is pumping millions of dollars into such programs, but it hopes the investment will pay for itself if it lands the right technology and talents.
Article continues below advertisement
Mentoring cloud-focused startups
In its latest startup accelerator move, Oracle is setting up a cloud-focused accelerator center in Israel, where it will nurture emerging talent and, hopefully, use the resulting technologies to improve its cloud business.
The accelerator center in Israel is similar to a center the company has already opened in India (EPI) (INDA).
Oracle moves to appeal to the financial sector
Oracle's startup accelerator program for Israel comes only a few months after the company acquired cloud-based financial services provider NetSuite for $9.3 billion. With NetSuite on board, Oracle is hoping to woo banks and other financial companies to its cloud platform.
Still, Oracle, Alphabet's (GOOGL) Google, and International Business Machines (IBM) all have a long way to go to catch up with Amazon and Microsoft in the cloud.