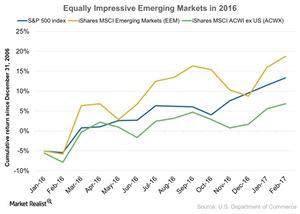 Are Emerging Markets Poised to Perform Better in 2017?
By Mary Sadler

Feb. 14 2017, Updated 10:37 a.m. ET
Will emerging markets repeat performance in 2017?
Emerging markets (ACWX) posted equally impressive performance in comparison to the S&P 500 index (SPX-INDEX) in 2016. The biggest advantage posed by the emerging market is its consumption growth, leading to a better market performance for equities.
Article continues below advertisement
Emerging markets' growth fell to 3.5% in 2016, as compared to 3.4% for 2015, according to the World Bank report in January 2017. But this growth is expected to rebound, with projections of 4.2% and 4.6% for 2018 and 2019, respectively. Emerging markets are expected to contribute 1.6% to global growth in 2017, contributing ~60% to global growth.
The US dollar
The continual appreciation of the US dollar is likely to hurt the profitability of American companies with operations abroad. If growth too picks up quickly, the Fed will have to increase the rate of interest to keep up with the pace, resulting in added appreciation in the US dollar.
The appreciating US dollar is also likely to disrupt the earnings growth of the major multinational exports in the US, providing opportunities for emerging markets. The consumer discretionary, retail, and information technology sectors are expected to outperform in emerging markets due to its relative size. Notably, Alibaba Group (BABA), and 3M (MMM), and Baidu (BIDU) are growing at rapid pace, tapping this tremendous market potential.
For more information on global trade and the outlook for 2017, check out Market Realist's Global Economy in 2016 and Expectations for 2017.