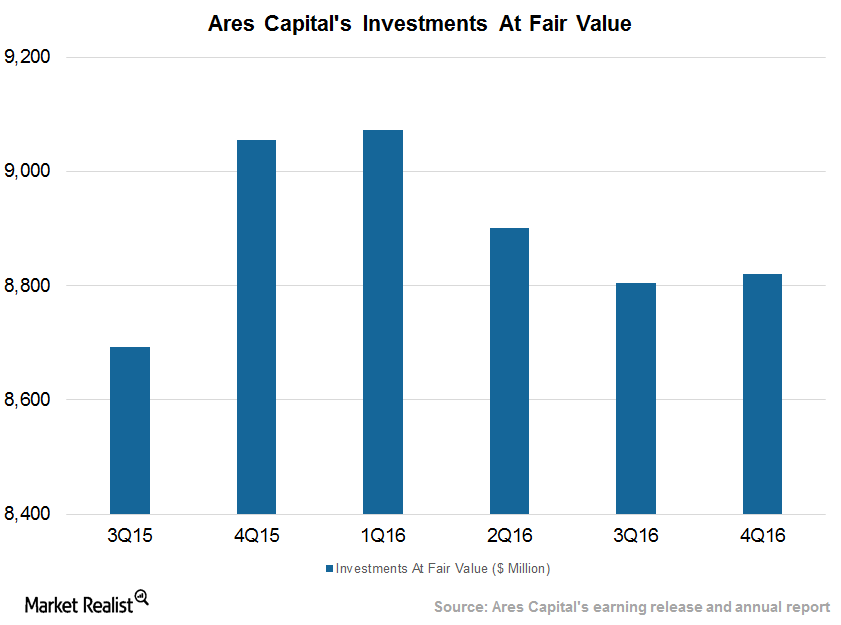 ARCC's Net Investments Rose on Senior Secured Loans in 4Q16
Portfolio changes
By the end of December 2016, Ares Capital (ARCC) had a diversified portfolio of 218 companies totaling $8.8 billion at fair value. The company made a total of $1.2 billion in new investment commitments in 4Q16, and it made total exits of $1.1 billion, reflecting net investments.
Based on the initial investment amount, Ares Capital's weighted average yield on total investments stood at 8.3%, compared to 9.1% on December 31, 2015, and 8.7% on September 30, 2016. The yield on its debt and other income-producing securities stood at 9.3%. The company's yields fell mainly due to lower yields on subordinated certificates in its Senior Secured Loan Program (or SSLP) and fewer transaction flows in high-yield markets.
Ares Capital is aiming to sell these deployments to its Senior Direct Lending Program (or SDLP) on the construction of a diversified portfolio for the program.
Article continues below advertisement
Rising net investments
Ares Capital's exits in terms of repayment, selling, or other amounted to $1.2 billion in 4Q16. Of these investment exits, 68% were realized from first lien senior secured loans, 20% were realized from second lien senior secured loans, 11% were realized from senior subordinated debt, and 1% were realized from other equity securities.
Of the investment commitments received, 57% were deployed in first lien senior secured loans, 33% were deployed in second lien senior secured loans, 7% were deployed in subordinated certificates of the SDLP, and 3% were deployed in other equity securities. The company made commitments to ten new companies, 12 existing companies, and two new companies through the SDLP.
Ares Capital continues to deploy funds in second lien loans to either known or large companies in order to generate better yields.
Here are some of the company's peers in investment management and their assets under management:
Carlyle Group (CG): $157 billion
KKR & Co. (KKR): $98 billion
Apollo Global Management (APO): $188 billion
Together, these companies form 5.2% of the PowerShares Global Listed Private Equity ETF (PSP). As of December 31, 2016, 148 separate private equity sponsors had invested via Ares Capital's portfolio.
In the next article, we'll study Ares Capital's yields in 4Q16.