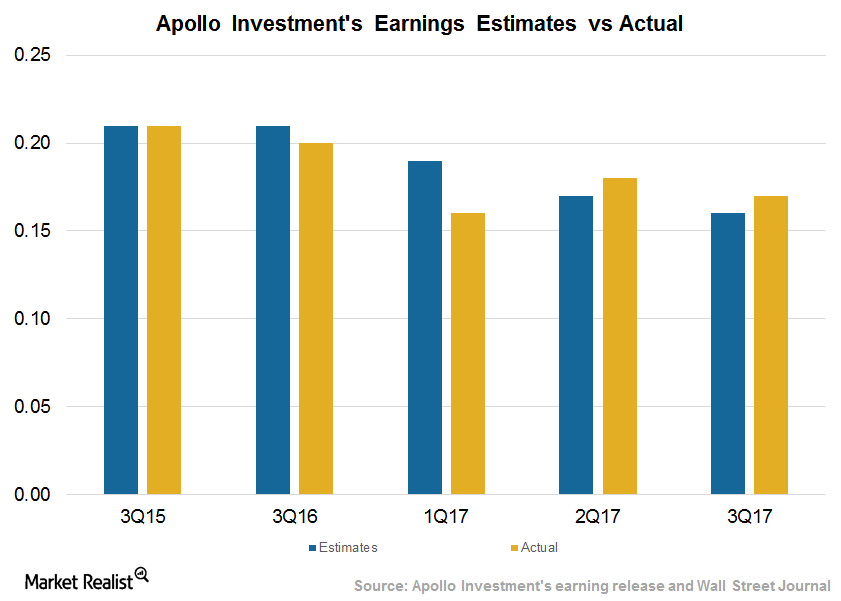 Apollo Investment Earnings Show Signs of Stabilization in Fiscal 4Q17
December quarter
On February 6, 2017, Apollo Investment (AINV) posted earnings per share (or EPS) of $0.17 in fiscal 3Q17, beating analyst estimates of $0.16. The earnings declined on a year-over-year and sequential basis. However, the operating performance of the company showed some signs of stabilization. The company's net asset value per share was $6.86 on December 31, 2016, compared to $6.95 on September 30, 2016.
Apollo has seen exits from investments over the past few quarters and is in a restructuring mode due to unrealized losses on investments.
Article continues below advertisement
Sequentially, AINV's net investment income per share fell to $0.17, compared to $0.18 for the previous quarter. The company's valuations have been negatively impacted by structured investments, as well as oil and energy space (USO) investments. The company has reduced the share of structured investments to 4.9% of the total portfolio and reduced renewable exposure to 7.3%.
Below are some of Apollo Investment's competitors in the investment management industry and how they performed with their quarterly earnings:
Ares Capital (ARCC): yet to report results
BlackRock Capital (BKCC): yet to report results
Prospect Capital (PSEC): yet to report results.
Together, these companies form 2.1% of the PowerShares Global Listed Private Equity ETF (PSP).
Closed-end fund
Apollo Investment Corp. is a closed-end investment company providing equity and debt funding solutions to US middle-market companies. The debt investments include secured and unsecured funding. The company is managed as a closed-end fund and is regulated by the business development company (or BDC) framework. Its objective is to generate current income and capital appreciation through debt and equity investments.
Apollo Investment Corp. is managed by Apollo Investment Management, LP, an affiliate of Apollo Global Management, LLC (APO), a global alternative investment giant.
In this series, we'll study Apollo Investment's performance, capital deployment, yields, dividends, portfolio, and valuations in fiscal 3Q17.