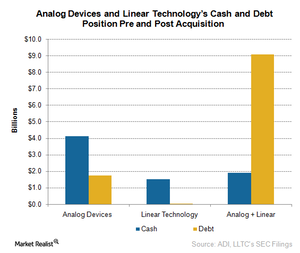 ADI's Balance Sheet after the Linear Technology Acquisition
By Puja Tayal

Feb. 14 2017, Updated 7:35 a.m. ET
ADI's balance sheet
Analog Devices (ADI) is spending almost 90% of its research and development expense on its B2B (business-to-business) segments of Industrial, Communications, and Automotive. ADI's biggest spending in the B2B space has been the acquisition of Linear Technology (LLTC) for $14.8 billion, of which ~$11 billion would be paid in cash and the remaining in ADI's shares.
This should increase the combined company's leverage on the balance sheet.
Article continues below advertisement
Cash and debt
At the end of fiscal 4Q16, ADI's cash reserve stood at $4.1 billion as against a long-term debt of $1.7 billion. The company looks to fund the $11 billion cash portion of the acquisition by raising a new debt of $7.3 billion and using $3.7 billion of its cash reserve.
ADI has already put in place a $5 billion term loan facility. Looking at the company's efforts, the new debt is likely to hold a coupon rate of approximately 3%. After taking into consideration Linear Technology's $1.5 billion cash reserve and $4 million debt, the combined company would have a cash reserve of $1.9 billion and a long-term debt of $9 billion
But the acquisition would increase ADI's FCF (free cash flow) from $1.15 billion in fiscal 2016 to ~$1.7 billion, which would help it repay its debt faster.
Cash flows
In fiscal 4Q16, ADI's operating cash flow rose 91% sequentially to $487 million on an operating profit of $382.23 million due to the addition of $116 million in working capital. This cash flow was also because of the huge order ADI received from Apple (AAPL) that increased the consumer segment's revenue by 58% sequentially in fiscal 4Q16.
For fiscal 1Q17, ADI is expected to report an operating cash flow of $272 million on operating profit of $303 million. It is expected to spend $130 million on dividend payment and around $40 million on capital expenditure.
The company is reducing its share buyback program as it accumulates cash to fund the Linear Technology acquisition. The company reduced its buyback spend from $23 million in fiscal 3Q16 to $1.4 million in fiscal 4Q16. This should increase ADI's cash reserve by $100 million in fiscal 1Q17.
ADI's strong balance sheet and future growth opportunities presented by the Linear Technology acquisition have thus raised optimism among investors.
Now let's look at ADI's stock performance.