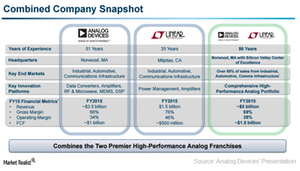 ADI's Acquisition Strategy: Focal Points
By Puja Tayal

Feb. 10 2017, Updated 7:36 a.m. ET
ADI's acquisition strategy
As developing technology is time-consuming, Analog Devices (ADI) has resorted to acquisitions to expand its product portfolio. ADI's biggest deal has been the acquisition of Linear Technology (LLTC).
Article continues below advertisement
Acquisition of Linear Technology
Analog Devices manufactures products like Analog, Converters, Amplifiers, RF (Radio Frequency), and Digital Signal Processing Products. The acquisition of Linear Technology would add power-management chips to ADI's portfolio and bring cost, manufacturing, and revenue synergies. These include the following:
The acquisition would help ADI reduce its cost by about $150 million within 18 months of the close of the transaction in fiscal 2Q17. Around $50 million of these savings would come from the cost of goods sold and the remaining $100 million would come from operating expenses.
The addition of LLTC would almost double ADI's total addressable market to $14 billion.
Both companies cater to the industrial, automotive, and communication infrastructure markets. This would bring cross-selling opportunities for the combined entity, increasing its revenue growth rate.
The acquisition would make the combined company the second-largest analog manufacturer, after Texas Instruments (TXN). The deal would also improve ADI's capability to address the increasing need of consumers for integrated solutions.
ADI's other acquisitions
Apart from Linear, ADI acquired some early stage technologies that would help it improve its solutions offerings. Below is a rundown of several:
ADI acquired SNAP Sensor for its very high dynamic range imaging technologies that are useful in smart city applications.
ADI acquired Innovasic for its Ethernet switching and software solutions that are useful in smart factory applications.
ADI acquired Sypris' Cyber Security Solutions for its sensor to cloud solution with security write down of the node.
ADI acquired Vescent Photonics' LIDAR (Light Detection and Ranging) technology to develop a solid state scanning LIDAR system that would enhance the former's existing RADAR-based ADAS (Advanced Driver Assistance Systems) solutions that are useful for autonomous driving applications.
These acquisitions will help ADI improve its offerings for different markets. Now let's look at the company's four segments and factors that will likely drive growth in each of these markets.