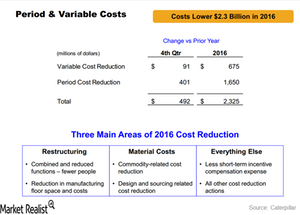 Can Caterpillar Benefit from Its Cost Reduction Initiatives?
By Sheldon Krieger

Updated
Caterpillar: Cost reductions
On September 24, 2015, Caterpillar (CAT) announced a significant restructuring and cost-cutting initiative, with actions expected through 2018. It included plans to reduce operating costs by ~$1.5 billion annually.
Caterpillar planned to reduce its workforce by more than 10,000 people, consolidate or close more than 20 facilities, and decrease manufacturing square footage by more than 10%.
As part of its restructuring initiatives, Caterpillar (CAT) reduced its full-time employed global workforce by 10,300 to ~95,400 at the end of 4Q16, compared to 105,700 at the end of 4Q15. Also, CAT reduced its flexible workforce by 2,000 to about 11,000 during the same period.
Out of these 12,300 personnel being reduced, 7,700 came from the US workforce and the remaining 4,600 came from outside the US. Moreover, the company closed more than 30 facilities and decreased its manufacturing floor space 14%.
According to company filings, CAT has cut its period costs through its restructuring initiatives and other cost reduction measures by ~$1.7 billion in 2016. Out of this ~$1.7 billion, the company reduced its period costs by $401 million in 4Q16.
The company witnessed a variable cost (volume adjusted costs) reduction of ~$675 million in 2016. Together, CAT reported its total period and variable cost reduction at ~$2.3 billion for 2016. These cost reduction measures helped the company offset the impact of lower sales on its bottom line.
Article continues below advertisement
Restructuring costs ahead
Caterpillar's (CAT) restructuring costs were estimated to be ~$2 billion, with $1.6 billion of cash costs and the remaining $400 million of non-cash costs. However, the company's restructuring costs in 2015 and 2016 totaled $1.9 billion.
CAT expects an additional $500 million (excluding short-term incentive compensation expense and labor cost inflation) in 2017 and more in 2018. Also, the company contemplates the closure of two of its large manufacturing facilities—Gosselies, Belgium, and Aurora, Illinois—in 2017. If implemented, these two actions would add to the company's 2017 restructuring costs and future benefits.
In the next part of this series, we'll learn about Caterpillar's operating performance in 4Q16.