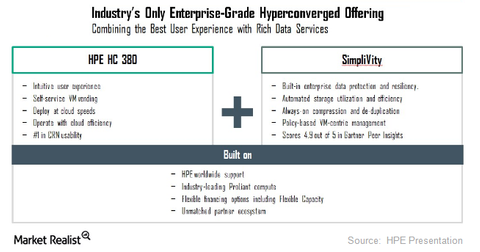 Why Are VMware and HPE Targeting Hyperconverged Infrastructure?
By Anne Shields

Updated
Industry analysts on the HPE-SimpliVity deal
Earlier in the series, we discussed how Hewlett-Packard Enterprise's (HPE) recent acquisition of SimpliVity could benefit it in the HCI (hyper-converged infrastructure) space.
We also learned that VMware (VMW), a pioneer in virtualization software, also aims to benefit from the wave trending in the direction of HCI technology.
Stating his views on SimpliVity's acquisition, a leading chief technology officer wishing not to be identified shared with CRN.com, "Now HPE is instantly in the hyper-converged conversation and mix. That is exactly what happened in the wireless market when HPE bought Aruba. HPE had no real legitimate play there, and then all of a sudden HPE was on every networking customer list right beside Cisco."
Article continues below advertisement
When HP announced its acquisition of Aruba, it was the second-largest player after Cisco (CSCO) in terms of market share in the enterprise wireless network market. HP was the fourth-ranked player in the market. By acquiring Aruba, HP not only made a swift jump in the networking space but also posed direct competition to Cisco.
John Barker, CEO of Versatile and an HPE-Aruba platinum partner, believes an HPE-Simplivity deal to be "every bit as big a game-changer as HPE Aruba."
Major players' increased interest in HCI could fuel its enterprise adoption
As reported by arnnet.com, Technology Business Research expects global hyper-converged revenue to rise 53.1% to reach $7.2 billion by 2020. Moreover, 32% of customers are expected to replace their current hardware with hyper-converged options, while 25% are cutting other areas of IT (information technology) expenditure to fund HCI purchases.
As VMware is now mostly held by Dell, following its acquisition of EMC (EMC), it will have greater access to funds to improve its scale and footprint in the cloud and HCI spaces. The HCI space is dominated by startups and small players with limited resources. As a result, enterprise adoption in the space is likely slower.
By acquiring SimpliVity, HPE not only aims to gain a larger share of the HCI space but also to gain an edge over VMware. Moreover, increased competition among major players such as VMWare and HPE should bring focus to this market and speed up its adoption.